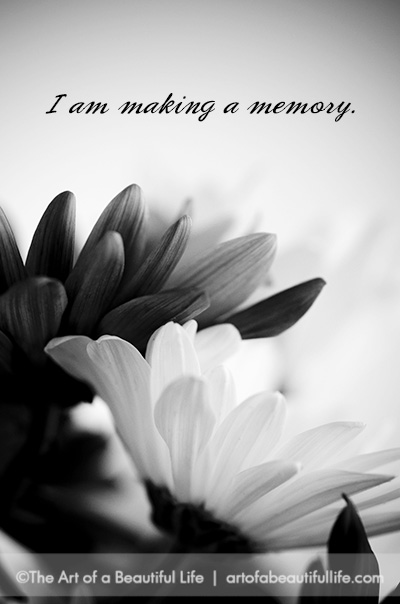 I had the most wonderful dream several years ago. I still remember it.  I dreamed that my mom and I took a camper and set out for a few days, just the two of us. I knew when we got there that this was going to be a special time for us. It was just the two of us, everything else left behind. I just sat for a moment and soaked it all in. So in my dream, I wrote a status update on facebook. Apparently , I post status updates even in my dreams, which is funny because I do so little of that in real life. But this is what I posted on facebook in my dream.
I am making a memory.
Wow. It was so powerful. It gave me chills as I wrote it.
What an amazing status update! I am not nearly that cool in real life. I might tell you what kind of sandwich I had for lunch, but that is about it. Note to self: Must write cooler status updates.
I love how in my dream I knew this would be one of those unforgettable moments even as it was happening. We don't always have that realization in real life. Sometimes, it is years later before we realize the value of a moment. It is hard to even put into words what the full realization of this moment felt like while living it. I just soaked in all of it.  I breathed it in and felt it on my skin, and soaked up every precious second of it in the most beautiful and peaceful way you have ever felt.
Always be aware of the beautiful moments we are etching into our hearts to become beautiful memories to keep forever.
It could be a late night conversation in the middle of the night, homemade soup, or a simple moment that made you laugh, but they are forever etched in our hearts.
Big things often happen in the little moments.
Many times these moments sneak up on us, but what if we started living with the intention of having more of these moments…creating more opportunities for these moments. It reminds me of the song, "Just Fishin" by Trace Adkins. He knows this is a moment. He knows they are making a memory. While his daughter thinks they are just fishin', he knows otherwise.
And she thinks we're just fishin' on the riverside
Throwin' back what we couldn't fry
Drownin' worms and killin' time
Nothin' too ambitious
She ain't even thinkin' 'bout
What's really goin' on right now
But I guarantee this memory's a big'in
And she thinks we're just fishin'
I wonder if this song actually made me more aware of the memory making moment in my dream? I hardly ever listen to country music, but I happened to have the television on the country music channel late one night when this song came on. I was moved and mesmerized through the whole song.
What if by being aware of these moments, after seeing this music video, I was made more aware of this moment in my dream? What if by staying focused on these moments and looking for them, we become more aware of these moments when we are in them? What if we intentionally make more opportunities for these moments, these memory making moments?
There will always be the moments that sneak up on us, but let's live life with the intention of being more aware and making opportunities for these moments.
Beautiful Ways to Create Memory-Making Moments
Spend TIME with those you love. Sometimes these moments sneak up on us, but we will never know them if we are not there.
Take pictures. Many times the pictures cement a memory that we might have otherwise lost.
Write about it. There will be details that you forget that you will want to remember.
Ask each other questions for more thought provoking insight. You will be amazed at what you learn and the moment you could share in the process.
Do the ordinary together. Doing simple tasks together are often times when everyone is relaxed and sharing just  happens easily as we do other tasks. You could be making a memory. Big things often happen in the little moments.
Do the out of the ordinary. Doing something you've never done, hardly ever do, or even something that is a little scary. All of these make you feel alive and are wonderful for making memories.
Fly a kite, run a race, play hopscotch, just because we should play more. Never forget how to play.
Take a trip (memories are always made on adventures).
Plant a tree or a garden together…something that will live on.
Share a hobby – gardening, crafting, photography, antiquing or junking, exercising, hooping, dancing.
A little joking, even pranking…in love. A good-hearted practical joke is rarely forgotten and a shared laugh over the years = priceless. Anything that makes us laugh has a special way of living on forever.
Use the senses. The sound of a song, the smell of a special dish or other scent, and the image of a picture all have the strong ability to bring back memories. Be intentional with these things. You never know when you might be making a memory. How wonderful to have many things to trigger the memory when we get the senses involved.
Do a 30 day challenge together. Working toward a common goal together is both bonding and a wonderful way to make a memory.I
Do firsts together. While on vacation, cook or order food you have never eaten. It will always remind you of that time.
Be present. Be in the moment. Many times we can really be distracted with our mind and thoughts other places. We miss this moment when we do that. And we never know when we might be missing a memory-making moment.
At the end of a life, it is never the things or jobs in one's life that occupy their thoughts. It is our faith and our loved ones. It is time spent with our loved ones and what we have poured into each other.
My mom passed away years ago, and while we will never have this particular camping trip, I am so thankful for all the memories we did make.
Grab the special people in your life and make a memory. It could be your mom, dad, son, daughter, grandchild, spouse, aunt, uncle, cousin, or a special friend…and always remember…you are making a memory.
Plan for it. Soak it all in. Click the shutter of the camera in my mind, for in this moment….I am making a memory.
I am doing that this week. My sons and I are going away for a weekend of making beautiful memories. We have rented a cabin at the beach, just the three of us. I. Cannot. Wait. This, my friends, is where life is lived, soaking in the moments with the beautiful people in your life. I am making a memory. 
What are your favorite ways to make beautiful memories?
What is a special memory of yours?
For more inspired, memory-making ideas…
Free Things to Do, Living Fabulously and Beautifully
Things to Do with Friends, Building Your Tribe and Making Memories
Fun Things to Do with Kids: Inspire Them to Create, Think, and Do
We Made a Memory – What We Did on Our Trip
For your pinning pleasure…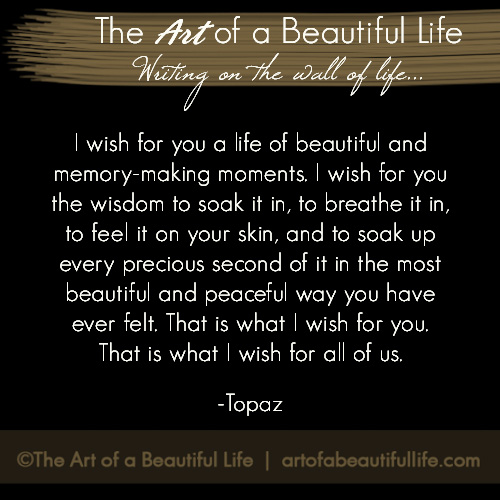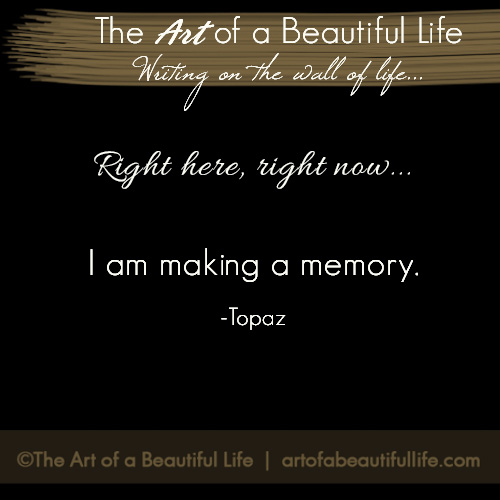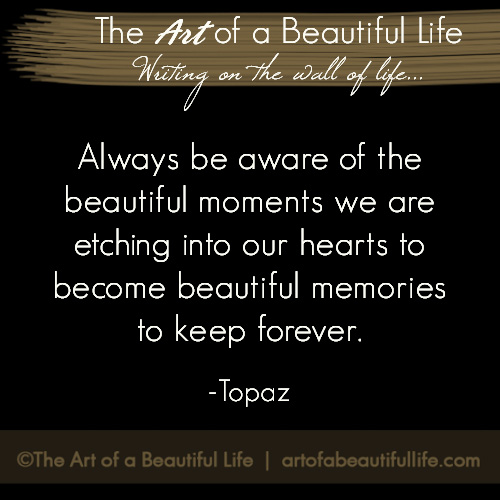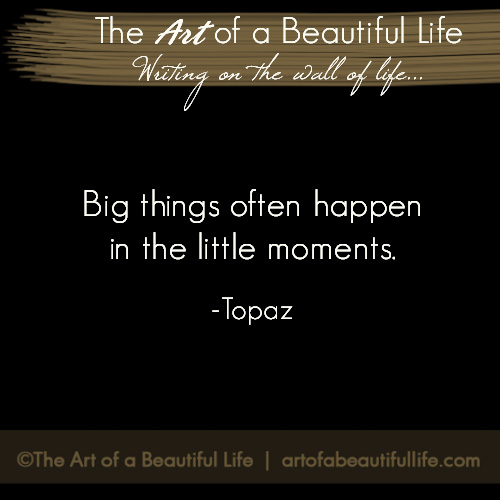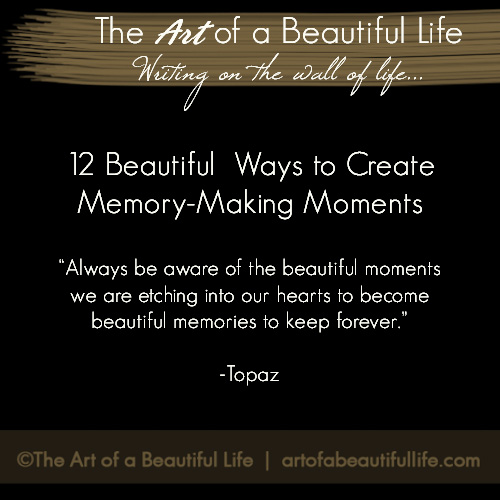 ***Disclaimers*** I am not a health expert. Please consult your own physician for health or exercise advice. I just share what I am doing or things I have found interesting. This is in no way considered to be advice for what you should do. Affiliate links are included on this blog and in this post.