Finding Joy…
If you are struggling right now and getting overwhelmed and finding that your joy is gone, this might be just what you need to hear today. This may be just for you. I have written on gratitude and celebrating life, but is there something else we can do to bring back our joy, our love for life? Is there something else we can do to live a beautiful life?
There is.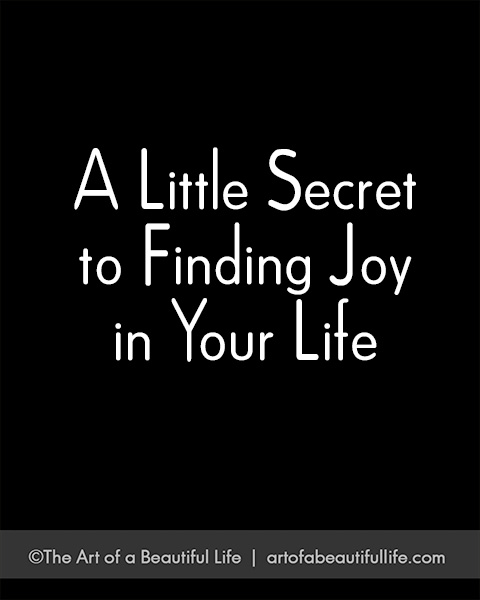 Here's a little secret to finding joy in your life again.
Give yourself something to look forward to.
Give yourself something to get excited about.
Sometimes we do not even realize that we have stopped living a life of planning, dreaming, and looking forward to beautiful things. It just happens, and we begin to forget what it is like or how important it really is.
We can find ourselves more focused on and dreading the bad than we are being intentional about the good. And it does not help that life can become so busy…and so cluttered. While some of these things we have to do, we can become habitually busy with things that are not as necessary as we think. We can forget what it is like to live any other way. It becomes our new normal.
The problem with continually being focused on and dreading the bad and being chronically busy is that life can be hard sometimes. We need to have something to look forward to, something that feels good, something that rejuvenates us. Not only do we get the benefit of actually doing it, but we get the added benefit of the joy it gives us looking forward to it, planning it, dreaming of it. When we deal with health problems, financial problems, family issues, and more, and then we add to that constant busyness, with nothing ever to look forward to, we can begin to feel overwhelmed and unhappy with life and feel that something is missing. We need to make room for these good things and to have these things to look forward to in life. It will make everything else a little better and easier, and perhaps even put everything into perspective for us helping us to realize that we still have an amazing life no matter what else we have going on in our life. We NEED this. It can be a game changer.
Give yourself something to look forward to.
I am guilty of not always doing this enough in my life, but I am getting better about it and learning to be more intentional. This is part of the reason why I began The Art of a Beautiful Life. I have blogged before, but I felt like they were all missing something and perhaps they were all a journey to this…the art of a beautiful life…a way to live life. I wanted my blog to be a place I wanted to live, a WAY that I wanted to live that pretty much encompassed my whole life and everything in it. Even at times when life was hard and did not feel beautiful, I wanted to take a road that inspired me and others to live more beautifully anyway. When life didn't seem beautiful, we could be the beauty. Let's be more intentional about planning these times and special days.
As I have started doing this a little more in my life, I am realizing just how desperately we all need a little of this. It is a wonderful feeling to have something to look forward to, and sometimes it doesn't even need to be something big. One day I planned on taking the day off and watching my favorite British comedy. I was thrilled just knowing that I was going to get to do this. I hardly ever take that kind of time to really get into watching something I love, and it is a totally different experience than watching a few here and there. We even had special snacks. But it was wonderful just looking forward to this.
I sometimes wonder if this is part of what makes holidays so special. We plan something special and have time to look forward to it. We plan special food around it. We light special candles. We play special music. We need to do that more. Let's make more days special. Let's celebrate more. Let's live the story we want to tell.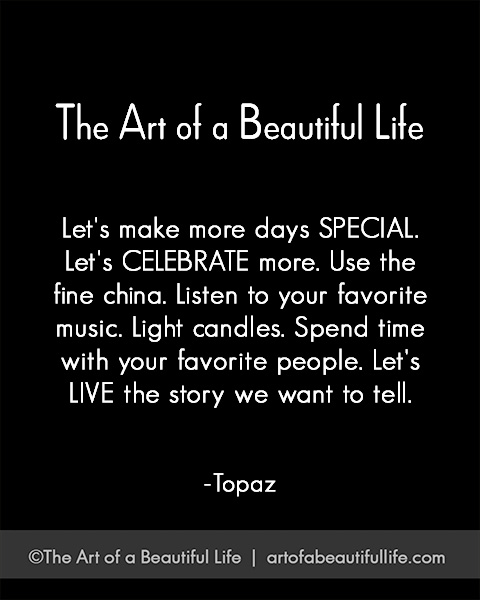 If not now, when?
When will we have something good in our life? When will we have something to look forward to? When will we live the story we want to tell?
While there are many things we have no control over, there are many things we do, including if we are dreading life with no hope or if we are intentionally giving ourselves something to look forward to, things that give us joy and just put a smile on our face when we did not think we had one.
We might surprise ourselves and find our joy again, our love for life. When we are in love…even in love with our own life, everything seems more wonderful. This could make you more aware of all that you have to be grateful for and all the reasons you have to celebrate. This could be a game changer.
So whether it is a holidays, a big game, a road trip, a vacation, Friday, or a day off to do something you love, make time for more of this in your life.
Yes, even a day off to treat yourself to something you hardly ever do. When I took a whole day and watched my favorite British comedy on DVD, it was pure bliss. It was a guilt-free day of enjoying something I love that gave my brain a wonderful and relaxing day. And it did not even cost anything.
And now I am planning a vacation this month with my sons. I cannot even begin to tell you how excited I am about this. Time with my two most favorite people in the whole world. It just does not get any better than that for me.  We just got tired of talking about the things we want to do "one day" and decided to just do them. We had just forgotten how exciting it was to plan it and look forward to it. It made everything else in between a little easier and gave us something happier on which to focus.
This is one of the changes I am making in my life…being more intentional and giving myself things in life to look forward to and plan and dream, living the story I want to tell.  When we get too busy, we have to really look at that and ask ourselves if we are living the story we want to tell.
I would like to challenge you to start making the things you want to do a priority. Whether it's once a week or once a month, plan something you would not normally take the time to do.
And when you plan this thing, this life-giving, joy giving thing that you want to do, take a little time here and there to get excited about it, think on it and what it will be like and what could make it more fun. Really let it percolate and become rich in thought, like that cup of coffee you have been looking forward to all morning or that new book that is coming out, think on it and get excited about it. Doesn't that coffee taste ten times better when we have been dreaming of it?
What is something you would love to do but never feel you have time for?
Is there some place you would love to visit?
Are there people who you are not spending as much time with as you would like?
Is there something you would love to create?
Is there a hobby you would love to start?
Are you living the story you want to tell?
If not now, when?
***Disclaimers*** I am not a health expert. Please consult your own physician for health or exercise advice. I just share what I am doing or things I have found interesting. This is in no way considered to be advice for what you should do. Affiliate links are included on this blog and in this post.