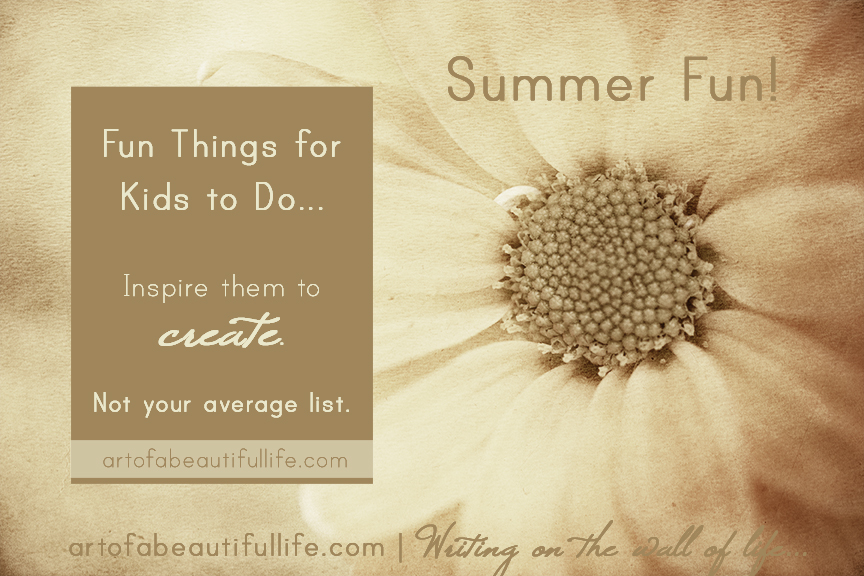 Fun Things to Do with Kids, Inspire Them to Create, Think, and Do – An inspired list of creative and fun things to do with kids. Eliminate the dreaded "I'm bored" from their vocabulary by showing them what a fun and creative world it is. The only reason to be bored is if you are boring.  Teach them to engage their minds with these creative ideas of fun things to do with kids.
This is an inspired and creative list of fun things to do with kids for the summer, spring break, vacation, weekend, or anytime.
I have raised two sons and most of the neighborhood. Our house was always the happening place to come and play. I am not sure how they came about. My guess would be that from a young age, we played with the boys, created with them, and encouraged them to use their imaginations. It made for a home with children who rarely said the dreaded "I'm bored" phrase. Well, that and they probably don't enjoy seeing Mom's head spin around like that if they did. Let's just say it was a pet peeve of mine. I grew up basically as an only child being the last one who was well behind the others. There was always something fun to do. Always. And I did not have a fraction of the options kids have now. I think my brain would have exploded with sheer joy overload with all of the amazing fun things to do with kids now.
Give your kids the gift of creativity. The gift of inspiration. And watch them soar.
Fun Things to Do with Kids, Inspire Them to Create, Think, and Do
Start an online twitter to share positive words to others. Share encouraging quotes to all your followers. Maybe this is something that you could do together so that it is supervised more closely, or maybe you could start it for them and monitor it.
Start your own business. Do some research with library books, online, or buy a book. Make a list of several ideas you like, or come up with your own. Pick your favorite and do it.
Design your own business card.
Make up your own game.
Learn to make an app.
Start a blog for a hobby you love. It could be models, skateboarding, photography, just whatever you love to do and would love to write about. Blogger or WordPress would be a good free blog that would be easy enough to setup without many of the other headaches that come with owning a website.
Read one inspirational, informative book book a month. Highlight the parts that speak to you, and write them out and put them in a special notebook where you can reread the words that spoke to you and want to remember.
Learn to type.
Write your own book. Write what you love to write. Write what you love to read. It can be fiction or non-fiction. Get it published for them for about $10 using createaspace or a company like Blurb. This can be quite the summer project even including your own photography.
Do a 30 day challenge.
Make up your own 30 day challenge.
Learn to paint.
Exercise every day.
Plan and cook a meal for the family (if old enough).
Make your own creative box. Include markers, paper, doodle books, models, origami book, paper airplane book. Just by putting your creative things in one place will inspire you to create. We were made to be creative. Even the guy rebuilding the car in the garage is creating.
Learn to play an instrument.
Put together a skit/play with your siblings or friends.
Learn a magic trick.
Learn a new dance.
Make something for your mom or dad for a special occasion or for no occasion at all.
Do an act of kindness for every year old that you are.
Set 3 goals for yourself for this month.
Learn to sew.
Learn to crochet.
Create a fairy garden.
Find a fun craft to do on Pinterest and do it. A parent could also start a board for some go-to ideas. Or the parent and child could do a group board.
Do a photo project. Shoot from the Hip, A Photo Walk
Plant a garden or flower.
Camp inside.
Make a kite.
Go outside and fly a kite (if you have the open space).
Go to the library and get a library card and check out books.
Have a quality library of books at home. Include your favorites. Include books like The Chronicles of Narnia, how-to books, books of why, creative books.
Have a marathon of an old television series. This may not be necessarily creative or inspired, but I do believe it is good to see a slower time, before everyone walked around attached to a phone and when kids respected parents.
Teach them proper etiquette. OK, I realize this isn't exactly fun, but you can still have fun while you are doing it, and it is a valuable life skill. You might be able to find a DVD to borrow from the library.
Start a journal.
Play dress-up. Get an old trunk and fill it with old purses, a boa, fake fur, jewelry, heels, clothes, and hats. And don't forget the camera. This is going to be priceless.
Walk a 5k…or the distance of a 5K.
Create 20 or so pieces of art to be scanned and printed in your very own hardbound book through Blurb or similar company. Even add some of your favorite quotes.
Create your own photography hardbound book. Choose 20-50 of your favorite pictures and print them in a book through a company like Blurb. If you did photography projects over the summer this would be great pictures to use.
Learn to draw with the help of a simple and easy book like this: Craft-a-Doodle: 75 Creative Exercises from 18 Artists.
Learn real life skills. Prepare your kids for real life situations: budgets, menu planning, balancing a checkbook, disaster preparedness, couponing, managing a household. When I was young, I remember thinking these things were fun to learn. I think it was the thrill of learning something that was grown-up.
Write an article for a magazine. This would be a great addition to a journal.
Redecorate their room. If possible, give them a small budget. Pinterest is a great place for inspiration. It wasn't on Pinterest, but I saw a picture of a child's room that was gorgeously decorated with a large wall display of her record album collection. It was such a low-budget idea since she already had the albums, but it was gorgeous.
Collect DIY gift ideas for Christmas and other holidays.
Do a scavenger hunt. It could be a photo scavenger hunt or a nature scavenger hunt.
Learn to take better pictures.
Learn origami.
Create an emergency plan in case of fire.
Plan a family day trip, including where you go, how to get there, food, what you will need to take, etc.
Write a resume. It is also a great exercise for them to realize their strengths and all they have done, and it also will help them learn what type of things they may want to do to build it up. It would be fun to save these over the years.
Put together a puzzle. Let them choose something they really like.
Make memories. Engage creative minds. Keep the electronics to a minimum, especially if they are not doing a project where their mine is engaged, active, and creating.  It is good for kids to be disengaged from electronics/technology more than they are engaged with them. My sons got 30 minutes a day unless they were playing an educational game. Encourage and have creative and fun things to do always available for kids. Most of the time it is just about supplying them with the right books to get their own creative wheels turning. If you want to keep it fresh and knew, put some things in boxes and rotate the boxes. Always leave out their favorites for anytime play.
Keep checking back for new ideas. What are some fun things to do with kids that you would add to this list?
Fun Things to Do with Kids Resources:
Free, Printable 30 Day Challenge sheets (a blank one is included and would be great for kids)
Photography Projects
Journal Inspiration
Make Your Own Game Apps – For Kids
Android App Inventor for the Absolute Beginner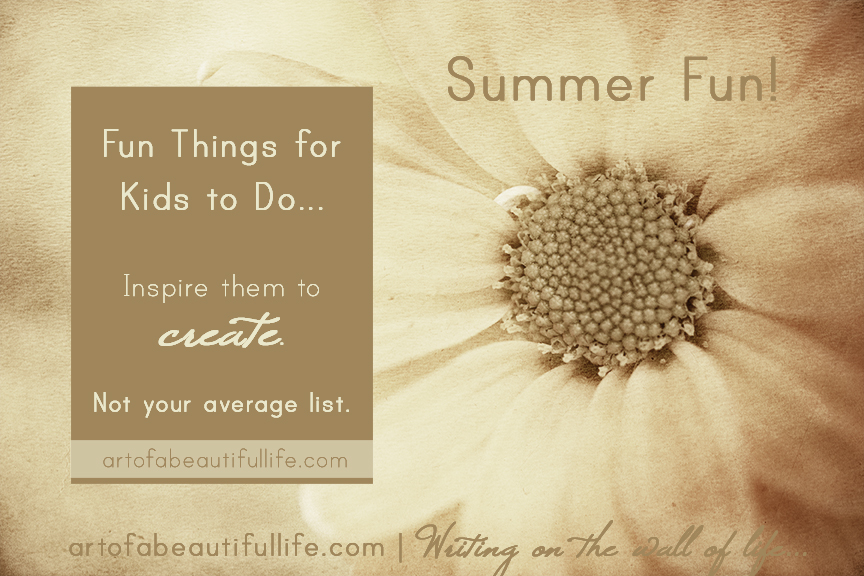 More Beautiful Things to Do…
Free Things to Do, Living Fabulously and Beautifully
Things to Do with Friends, Building Your Tribe and Making Memories
Fun Things to Do with Kids: Inspire Them to Create, Think, and Do
***Disclaimers*** I am not a health expert. Please consult your own physician for health or exercise advice. I just share what I am doing or things I have found interesting. This is in no way considered to be advice for what you should do. Affiliate links are included on this blog and in this post.