I love when we hear a story of someone's life, and it touches us in that deep place where it whispers softly. This. Do THIS. This is how you want to live. This is the story you want to tell.
I've been doing the Change Your Thoughts, Change Your Life Challenge for over six months. One of the things I do is listen to a CD before I go to sleep. I believe the first moments when we wake up and the last moments before we go to sleep are especially significant times for imprinting the thoughts we want to permeate our very soul.
I listen to the same CD many times, because I tend to fall asleep while the CD is playing and do not always hear all of it. That and the fact that good stuff is good stuff no matter how many times you listen to it, and I find the more I listen to things the more it permeates my being. It is kind of like the reverse of what the negative voices in our head has done to us for years. Repetition is a powerful thing.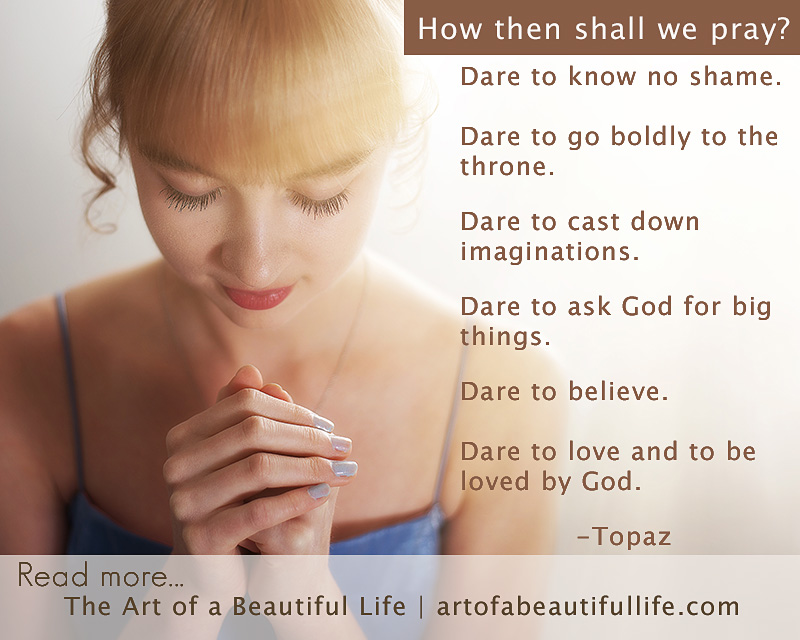 The other night I was listening to a particular CD. I had listened to it many times, but it is a two part CD, and I always fell asleep before I got to the last part of the second sermon. Well, this particular night I could not get to sleep. I was wide awake. So I found myself listening to parts I had never heard. The whole CD is about God sized prayers, but the particular story that I had not heard before was the one about Joel Osteen, his brother, and a friend at the airport with his 80 year old mother when her car will not start. While the story made me laugh until I cried, it also really spoke to my spirit, the way his mother prayed. The thing I loved about the story of Joel's mother at the airport was that she meant business. She believed with her whole heart, and anything else was not an option. Going to God in faith, asking for what you needed, was the only option she knew. Joel said that his mother knew no shame where this was concerned either. His voice, His word, was the only voice she listened to, and she did not doubt who she was to God. She is God's biggest deal. She is God's business, but going to God is her business. He is her biggest deal.
It left me asking myself if I pray with that same fervor and conviction, knowing that I am going straight to the thrown to talk to my father, knowing how much He loves me.
I loved this story and recorded an audio of it and shared with my son. He told me of a girl he knows that did a lot of drugs, and she seems a little off, possibly because of the drugs, but she also had lived a completely different life before Jesus. But she fell in love with God somewhere along the way, and she now lives a radical life for God. My son said that he has a lot of respect for her. He said that she does not think twice about walking up to someone and telling them about Jesus. She doesn't think twice about praying for anything and everything, right then and there. She knows no shame.
Her story also reminded me of another story in the sermon. Victor Torres' mother prayed for him, even though things only seemed to get worse the more she prayed. We walk not by sight. Thank God that Victor's mother knew this. Victor led a troubled life as a young 12 year old boy. He got mixed up in a gang, did drugs, and many other unbearable things we cannot even imagine in the lives of our children ever, but especially not at such a tender, young age, but when he became a Christian, he lived a life equally as radical for God.
He who has been forgiven much, loves much.
"I tell you, her sins–and they are many–have been forgiven, so she has shown me much love. But a person who is forgiven little shows only little love."
Luke 7:47 NLT
Do I keep knocking at that door when all hope seems lost and things only seem to be getting worse? Do I take that as a no and walk away, or do I keep praying faith?
It got me to thinking about my prayer life. I'm guilty of hearing the little voice in my head that says not to bother God with certain things, or that God is not concerned about the things in my life, or to think somehow none of this could be meant for me, the outcast, the rejected. But I am God's business. I am His biggest deal. I have been praying more about a lot of things lately, but it helps to have a steady diet of faith-filled words to help silence the other voices in my head. And you know what, He does care about the little things. I love stories like the ones in this sermon. They feed my faith. They feed my boldness. They show me how to pray, how to believe.
I have a lot of voices in my head that speak lies. They bring up my worst. They remind me of what others have said about me, how they treated me, and how unworthy of being loved they made me feel for my whole life. These voices are the enemy. Yes, these things all happened, but they do not define me. Many of them just define the other person. These voices do not tell you who I am and where I am going. They only tell you where I have been, what some of the people along the way said and did. Those things are only a small part of the story. I am so much more. God has done so much more in my life. I bet we all hear this voices from time to time. The Bible tells us to think on the good things. It tells us to remember what God has done for us. Nowhere in the scriptures will we ever read to think on the things that broke and crushed our spirit. This is what the enemy uses to keep us from God's best for us and to keep us where we cannot love and help others. We cannot focus on both lies and truth at the same time. We must shift our thinking the moment these thoughts come to our mind. When this lies come to our mind, replace them with God's truth. Be ready. Have your answer when they come knocking at the door of your mind.
We have all discussed recently on another blog post about the thoughts we think. We all struggle with this. This year a big part of my focus is taking my thoughts captive. I believe shifting to better thoughts the moment these thoughts enter our mind and to continually fill our hearts and minds with His word, stories of faith, and positivity is the way we must continually walk to take our thoughts captive. It is a battle that we must always be prepared for before it happens. And then to continually put on the whole armor of God to protect ourselves.
The battlefield of the mind. It's real. And it can hurt us when we pray.
So how then shall we pray?
Dare to know no shame. Dare to go boldly to the throne. Dare to cast down imaginations. Dare to ask God for big things. Dare to believe. Dare to love and to be loved by God.
Pray without ceasing. Enter the gates with thanksgiving. Pray with faith.
This is a video of the sermon. The story of his mother at the airport begins around 19:11, but the whole message is wonderful. And the story of Victor Torres and how his mother prayed for him is not one to be missed, talk about walking by faith and not by sight. I cannot even imagine how Victor's life would have ended had it not been for his mother interceding for him.
These mothers knew their prayers were reaching the throne of God. They knew their prayers were being heard.
Joel Osteen – Click HERE and choose sermon #567 Pray God Sized Prayers – I apologize about the earlier video. I did call and speak to the copyright department. They said most of that is Youtube taking things down, but they do require you to get permission from the copyright department before posting, so they can be sure it's not being used to to make money, etc. I can understand that. She is going to speak to that department and try to get it put up on youtube on their channel, but it's also on their website in the link I gave.
How would we pray if we thought our prayers made a difference and were being heard?
***Disclaimers*** I am not a health expert. Please consult your own physician for health or exercise advice. I just share what I am doing or things I have found interesting. This is in no way considered to be advice for what you should do. Affiliate links are included on this blog and in this post.