Each day of our life we are writing our story, the story of our life.
Are you living the story you want to tell? Is the way you are living your days, the way you want to live your life?
The pen is in your hand. What are you writing on the wall of your life, and is it the story you want to tell? If someone asked you to tell them about your life, your story, is the way your story reads right now, the story you want to tell?
It is not always about the big things or what you have or do not have, but it is how we live in the details. It is who we decided to become.
This seems so basic, but somehow, I find myself needing to be reminded of this more often than not. Sometimes I get lost in the big picture of it all, or maybe even lost in thoughts of what tomorrow may bring.  And life passes by.
13 Ways to Live the Story You Want to Tell
Live fully in the moment, taking nothing for granted. This moment. This is your life. The past is gone. The future is not here. Inhabit all the days of your life.
Have hope for the future. Live past and outside of your current situation. Never let your current situation define your future. Live fully in the present, but while still planning and hoping for an amazing future, just do not live there to the point that you lose today for it. 
Show up. Be the person you were created to be. Live out loud. People will like you or they won't, but if you never show up, they will never  even have a chance to like you.
Do what makes you feel alive

. Live outside your comfort zone.  Do this at least a few times a year…or every day. Just be sure to be brave. It will make you feel alive. Until you have pushed past your limits, you will never know what they are. You might be surprised.  We are usually far more capable that what we think. Dare to step outside your comfort zone.

Live with less. Happiness is not in things. As a matter of fact, we are usually much happier with less. There is a whole new tribe of people trading their over-extended lives for a much simpler life. Less equals more.
Go for it. Why not? Why not me? You know whatever it is. Follow your dream. Others may not agree, but it is not a dream for them. It's yours. That is why it was given to you.
Define the life you want to live.

And then live it on purpose. Make a list of how you want to spend your days, your life, and do that. Fully. Be who you want to be on purpose. Pause and ask yourself is this how I want to be spending the moments of my life? Pause and ask yourself is this how I want to be spending the moments of my life?

Immerse yourself. Immerse yourself in a life that moves you. Go deep. Spend time with God. Spend time doing the things you want to do, being the person you want to be. Follow the calling God has put in your heart. It's guiding the way.
Be the magic.  It is not always where we go or what we do that is as important as how we do it. Bring your awesomesauce to life.  You know that best you that you save for special occasions? Bring that. Isn't every day a special occasion?
Be part of a tribe.  We all need this. Surround yourself with people who care about you and believe in you. We have a tendency to get content or lazy, but we are missing out on an amazing life when we go it alone. Do not be afraid to be the person inviting others and planning. Most people don't do anything just because they do not have someone in their lives who is THAT person, the one who brings everyone together. Be that person. Be the friend you want to have. If it is not reciprocated or does not feed into your life also, keep looking. A healthy friendship relies on the back and forth of being there for each other, growing and encouraging each other. If that is ever one-sided, someone will become bankrupt and start bouncing checks.
Never stop growing and learning. It is all part of the process of becoming the person we were created to be. Read inspirational books. Read books on skills you want to learn. Just keep growing. Never assume you are done.
Practice gratitude. Each day focus on what you DO have and not what you do not have. A life that operates from a heart of gratitude is a life that is positioned to live a more beautiful live and receive even more. A life that is in want and lack, draws more of the same.
Be a giver. It is one of those things that often appears like we are doing it for someone else, but from personal experience, we often receive the most out of the deal. Giving can be in small ways or big ways. Give a book that you loved to a friend. Send a note of encouragement. Be there when a friend needs someone to walk along side them during a difficult time.
 Making the Most of This List
Print the list above and pin it on your bathroom mirror.
Remind yourself of who you want to be and how you want to live your life. And then do that every day. What do you want to do more of? Be more like?
Then choose 3 things from your bucket list, and do them this year.
Pay closer attention to how you are living your moments, because in the end, those are your life.
What is your story saying about the way you live your life?
Writing on the wall of life,
~Topaz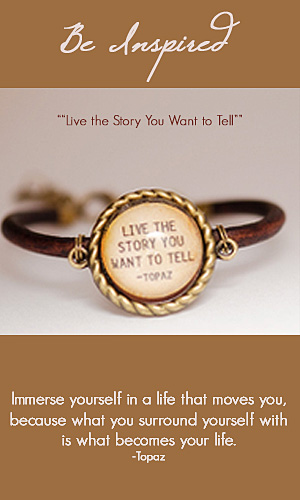 ***Disclaimers*** I am not a health expert. Please consult your own physician for health or exercise advice. I just share what I am doing or things I have found interesting. This is in no way considered to be advice for what you should do. Affiliate links are included on this blog and in this post.