As the new year approaches, this is a time that many of us are choosing our one word for the year. It is when we choose a word, one word, that is speaking to us, calling to us. Instead of focusing on too many things, it is a way of keeping one goal in front of us all year.  It could be a word in an area we would like to grow, a way we want to be, a life philosophy, or a goal.
I liked a lot of words last year. Yes, I know. That's not how you do this. I just fell in love with them. I could not help myself.
Words like…
immerse
intentional
momentum
celebrate
show up
inhabit
While I focused at different times on the different words, I would have to say the underlying mood for this past year was about the words immerse and intentional. I feel like I made those words a focus for this past year and made progress in those areas.Those are great areas of focus for every year.
I am still not sure of my word for this year. The words right now that seems to be moving me are indomitable, unstoppable, words like those.
in·dom·i·ta·ble
inˈdämədəb(ə)l/
adjective
impossible to subdue or defeat.
"a woman of indomitable spirit"
synonyms: invincible, unconquerable, unbeatable, unassailable, invulnerable, unshakable, unsinkable; indefatigable, unyielding, unbending, stalwart, stout-hearted, lionhearted, strong-willed, strong-minded, steadfast, staunch, resolute, firm, determined, intransigent, inflexible, adamant; unflinching, courageous, brave, valiant, heroic, intrepid, fearless, plucky, gritty; impenetrable, impregnable; informal spunky, skookum
un·stop·pa·ble
ˌənˈstäpəb(ə)l/
adjective
impossible to stop or prevent.
"an unstoppable army"
Or maybe the word….fierce…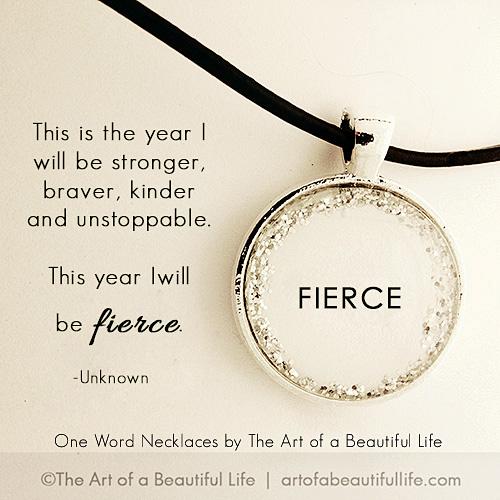 These words are speaking to me right now. No matter how tough things are, we just cannot give up. Whether we are going through a crisis or working toward a goal, these are words you want to be….words that you will probably need to be. We cannot take our eyes off the ball. We must stay on course. We must not be moved by feelings or obstacles.
I love these words.
I am sure there will be others that find me, but those are the words that are speaking to me right now. I also love the word Shine. Don't we all want to remember to shine…really shine?
Do you have a word for the year? Here are more one word choices that might speak to you…
Action, Appreciate, Believe, Bloom, Brave, Breathe, Celebrate, Confidence, Create, Faith, Fierce, Focus, Grace, Gratitude, Happy, Hope, Imagine, Immerse, Indomitable, Inhabit, Intentional, Joy, Kindness, Love, Momentum, Peace, Positive, Pray, Present, Rejoice, Shine, Show-up, Simplify, Soar, Thrive, Unstoppable, Unwritten, Visible
What words are calling to you for the new year?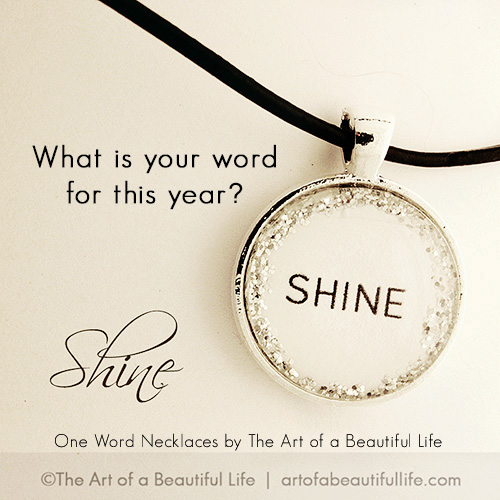 ***Disclaimers*** I am not a health expert. Please consult your own physician for health or exercise advice. I just share what I am doing or things I have found interesting. This is in no way considered to be advice for what you should do. Affiliate links are included on this blog and in this post.