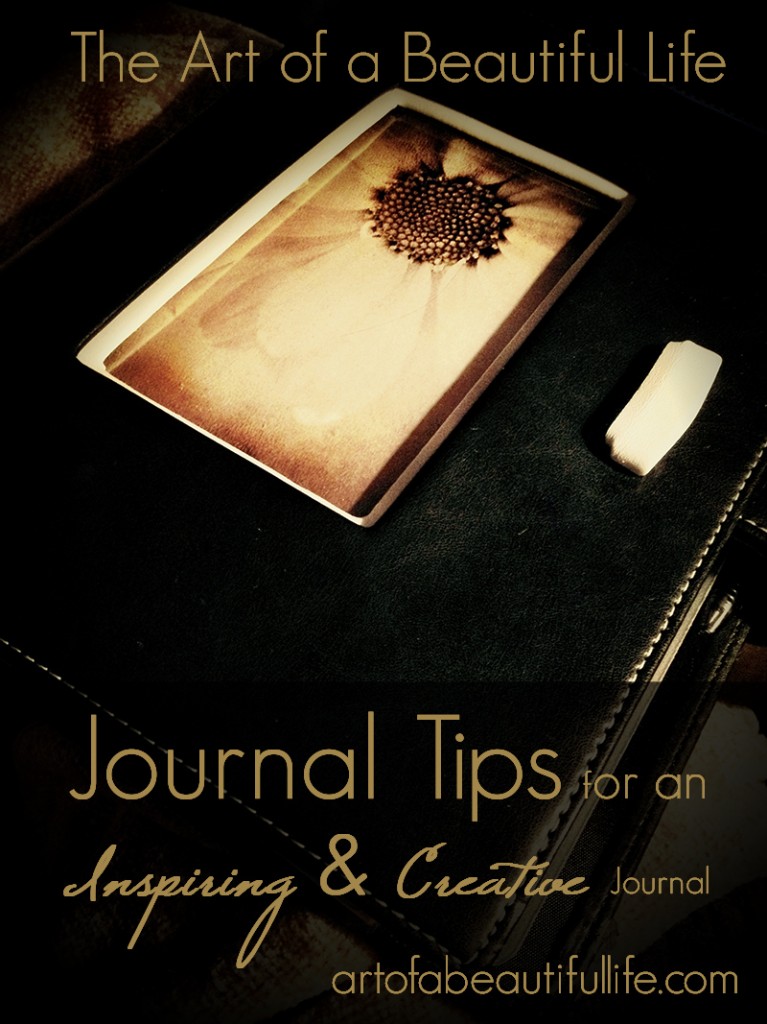 Journal tips to inspire creativity for a beautiful journal experience.
Journals are no longer just your average "Dear Diary" experience. They can be simple thoughts are works of arts. They can even be special gifts. For creative journal ideas, visit Journal Ideas: Creative Journal Keepsakes. Be prepared to have your mind blown (and inspired) with ideas. You will hear your soul say, "Yes. This."
But before you hop over to Journal Ideas: Creative Journal Keepsakes for journal ideas and begin your journal, here are some journal tips to get you off to a great start.
These are journal tips to make your journal fun and creative and to help get you started. These ideas will help you to make your your journal work best for you and to get the most out of it.
Journal Tips:
Give your journal a cool name, title, or quote on the front. Something that will stir your soul,  move your soul…to own it, live it, be it.
Choose a journal you love or design your own with art journal ideas.  This is important. See above. Your journal should be something you love. Journal makers get this. That is why they are so many choices and designs. Many are also painting their own covers for beautiful self expression.
Start now. If your children are home and you are doing a journal with them, for them, or for them to use instead of cards to do a page or two for you each year, start now. Even if you may have missed doing this in previous years, start now. Even though you may be disappointed that you missed earlier years,  you will be even more disappointed if you miss them all.
Don't feel a slave to all one format. If you want to write in it, fine. If you have written an entry on the computer, print it out and tape or glue it to a page.
Mix it up. Some days you may feel like word art, doodles, or using a photo for inspiration. Do it.
If a hardbound journal with permanent pages freaks you out, get a gorgeous loose-leaf one with beautiful paper.
Do not journal hurtful things or angry thoughts that could hurt another. Write those thoughts, if you need to, but then throw it out.  Feelings are just that, our feelings at the time. They are very temporary, and we would never want to hurt someone we cared about by venting and for them to later read it. This could be an important lesson in the power of our thoughts and words and how when we put them out there, we cannot take them back, so write them responsibly.
Use washi tape to attach items. This looks cool, plus the color selection is off the charts.
Use highlighters if you want to color code different types of things, like actions to take, inspiration, goals, or oh, my word this is amazing, and I don't want to forget it. Color coded paperclips can also be used in the same way.
If you want lines for some pages and have a loose-leaf journal, find a paper that will work well for your journal colors and print your own lines and cut it. Do a lot at once, and you are ready to go. I have a Word doc of lines that I use for an A5 size journal. I just cut it in half. If you want to use my file, just leave a comment and let me know, and I will e-mail it to you.
Journal Tips for Children:
Keep it special and inviting. Keep markers, colored pencils, washi tape, and photos in a special place to inspire creativity.  Come to think of it, this is a great tip for adults, too.
Include writing prompts and books on journaling for creative inspiration. When a child realizes the possibilities, she will be inspired to create her own journal in her own way realizing there are endless possibilities.
Leave them room to be creative. For instance, a boy  might want to do his journal like a comic book. Let him. Encourage him. You never know what could be ahead for his future. A child can even press things they find outside. It will all be a wonderful treasure one day. Let them make it their own. This is their journal and their work of art. Let them own it and be free with it.
Teach them different journal skills. Youtube videos can even be used as tutorials.  Their creativity will expand as they learn how to use paint, ink, stencils, stamps, markers, washi tape, and more.
If you have a child that is a perfectionist, take them through a "Wreck This Journal" type of experience as experienced in Wreck This Journal (Black) Expanded Ed.  You could change his life forever by helping him get over a perfectionist fear of messing up something.
What journal tips would you add to these lists? What are your favorite journal tips?
More Inspirational Resources:
***Disclaimers*** I am not a health expert. Please consult your own physician for health or exercise advice. I just share what I am doing or things I have found interesting. This is in no way considered to be advice for what you should do. Affiliate links are included on this blog and in this post.