Journal ideas for creative and beautiful ways to keep a timeless treasure, for the creative soul.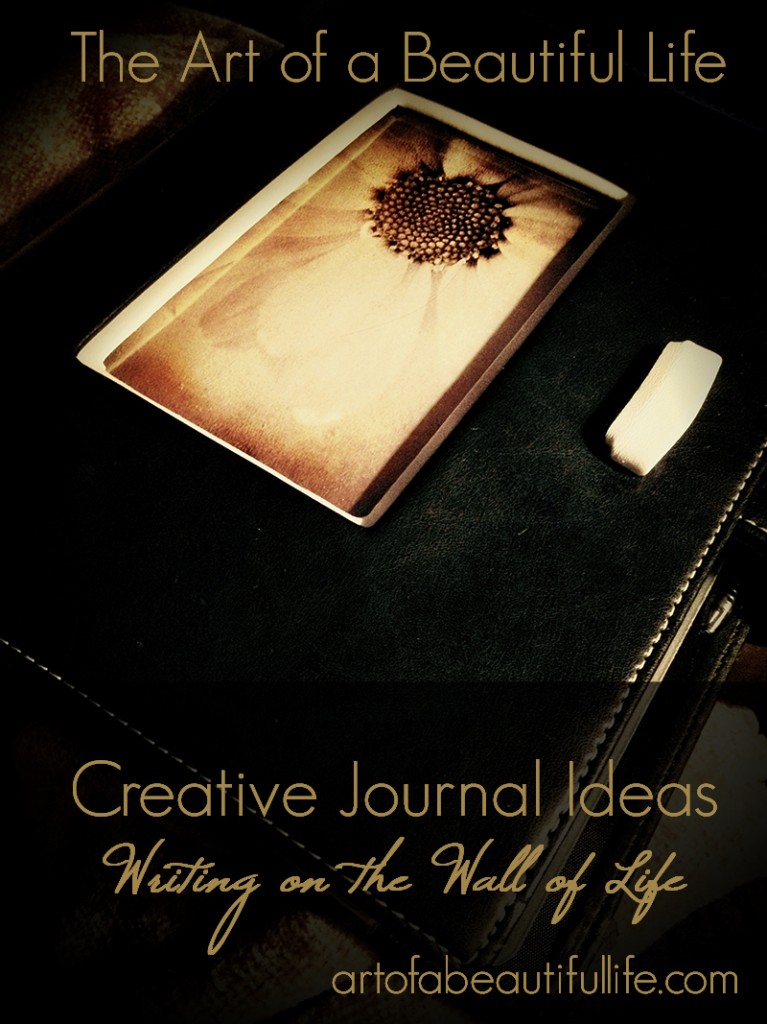 Just writing about these journal ideas moves my soul. I feel like a kid in a candy store. We have come a long way from the tiny, pink journal with a lock and key. It reminds me of the best part of school…new supplies. Things like a new journal, markers, and inks always makes me feel a little like a kid on Christmas morning.
The journal ideas now are endless. Endless ideas of ways to use a journal and endless ideas for how to create a journal.
Journals can now even be a wonderful, creative work of art.  Get your journal and find your special place to write. Create a writing nook in your home, or take it out to sit by the water as you let the deep waters of your soul pour onto the paper. Fill it with your art work, your photos, your words, your thoughts…your soul.
And let the magic begin.
Journal Ideas
Mother's Day Journal – This is a beautiful journal idea for a journal. Just beautiful. Instead of a child buying a Mother's Day card for Mom every year, one journal is bought, and the children leave messages, pictures, drawings, anything else their little heart's desires in this special keepsake journal for Mom. My heart just melted. Melted I tell you, right here, in a puddle. I mentioned this idea to my almost 27 year old son. He says he's too old for that and can buy a card. I originally read about this idea here and fell in love with it: No More Mother's Day Cards
All Occasion Journal for Mom – This is an expanded journal idea on the Mother's Day journal. Instead of just for Mother's Day, it can also be for birthdays, or any occasion a child wants to leave a special message for Mom.
Just Between Us: A No-Stress, No-Rules Journal for Girls and Their Moms
– What a beautiful idea. The journal is passed between mother and child, as they leave thoughts for one another and have special conversations they will forever be saved. One note here, this does not have to be something just between a mom and her girls. It can be between a mom and any child.
From the Day You Were Born – Beginning on the day your child is born, write a message for them in a special  journal you just for them. Include your notes of love, how amazing they are, how proud you are of them, beautiful things you see in their spirit, acts of kindness, birthday messages, a page each year for what they liked or what they are like at that age, or even important milestones (first tooth, first hair cut, first dance, etc.). Or if you think it will be hard for you to keep up too much and do not want to over commit, lest you fail completely, start it the day they are born and save it for birthday messages each year.
Art Journal – Journals are not what they used to be. The creativity in what is called "art journaling" now is such a beautiful way to personalize your journal and make it a work of art, your masterpiece. Art journaling makes a wonderful hobby that can even be done on a low budget, but there are definitely some things to spend money on for this hobby if you like. Pinterest is a wonderful source for art journal ideas. Let these wonderful creative journal ideas inspire you to create your own creative journal with paint, ink, stencils, stamps, and markers.
Gratitude Journal – Developing a grateful heart changes us. The best way to do this is to start a gratitude journal and write down three things every day for which you are grateful. It could even be very simple things we take for granted every day.
A Vacation Journal – If you take a yearly vacation, a special journal for each vacation for recording your stories, adventures, mementos, and pictures. If this is a family vacation, each family member could participate and create their own pages for this journal. What a beautiful memento of your trip. If you travel a lot, see the Adventure Journal idea below.
A Life Journal: Writing on the Wall of Life – This would be more of your typical journal, maybe slightly more positive. It is a journal for living the story you want to tell. It makes us more conscious of our daily choices and that they are in line with the story we want to tell. Write about your adventures, family night, positive things you've learned, your goals, your manifesto for life…and then live it every chance you get…then journal it.
Adventure Journal – If you take a lot of trips and really live the adventurous life, a special travel journal is the perfect place to record your adventures and even a few keepsakes and pictures. Think The Secret Life of Walter Mitty.
Prayer Journal or Spiritual Journal – This is a wonderful complement to Bible study. It is like a conversation with God as we write our thoughts, questions, and prayers to God. It is a wonderful way to be able to look back and see His hand in our lives and to remember what He showed us and how He answered us.
Inspirational Journal – Make your journal a place for inspirational thoughts. Include quotes, manifestos, dreams, and even a plan of action. It could also be a place to include your wonderful achievements and compliments to give you a boost on a day when you are just not feeling it. This would be a great go-to place when you need a pick me up.
New Years / Goals Journal – Goals and New Year's resolutions are often forgotten. A special journal for your goals is a great place for keeping them all in one place to know where they are and to reflect back on the past year's resolutions.
Business Journal – Journal your goals, plans, dreams, and business ideas.
If you have children, these journal ideas would be wonderful way to encourage creativity and writing. Make it fun and create a special box full of wonderful journal and art journaling supplies.
Now that you have all of these wonderful journal ideas, and your mind is just swimming with the endless possibilities, think of what type of journal best suits you. Do you like a leather journal? A hardbound journal? A loose-leaf journal? An art journal? Or perhaps, you want to journal on a blog? The journal ideas or endless.
More Inspirational Resources:
Here are a few journal ideas for you:
Valery®vintage String Classic Leather Blank Notebook Diary Journal Retro Note Book Mediterranean Style Loose-leaf (Brown)
Unique Leather Journal Refillable with Feather Loose Leaf Binder Handmade Lined Paper Light Brown with Gift Box (Lined Craft Paper)
Large Brown Planner with Snap-on Closure by BAGS FOR LESSTM
Day-Timer Undated Pink Ribbon Desk-Size Organizer Starter Set, 5.5 x 8.5 Inches (48391)
What are your favorite journal ideas? And what do you use for your journal?
***Disclaimers*** I am not a health expert. Please consult your own physician for health or exercise advice. I just share what I am doing or things I have found interesting. This is in no way considered to be advice for what you should do. Affiliate links are included on this blog and in this post.