He passed this way. I wanted to touch the hem of His garment. This is what this felt like today. On my birthday.
God's hand in our lives is a beautiful thing. My heart is overwhelmed at the little things He does for us.
I always spend my birthday with my sons…just the three of us. I love it when it is all three of us together. But for the last month, I have been dealing with a pulled muscle and my back has been OUT. I mean really out. The last couple of days it has been getting a little better. I can actually get up and down and without any help. This is progress, but I am still healing. My sons take me out for my birthday every year, and it is looking like it is doable. Yay. But….my youngest son is sick, not "too bad to do stuff" stick, but definitely "don't want to give mom the awful cough" sick. My heart broke a little at the thought of not being able to see my son on my birthday. But I tried to be strong and brave. My oldest was taking me out to dinner, and I know we were going to have a wonderful time. He's been so excited to celebrate my birthday with me, making a big fuss about it. I love him so much. And I love how he does that for me….making me feel special.
In a last ditch effort to be able to also see my youngest on my birthday, I thought maybe we could all meet at the fair, an open air kind of thing. Sadly, he was already out and couldn't make it in time. My heart broke a little more. I was trying really hard not to cry. I put on a brave face.
My oldest son and I went to dinner and had a wonderful time. Because today we celebrate. We celebrate life. We celebrate our people, and we celebrate God. So we celebrated. We went to Cracker Barrel. I just love that little store. The smells, the interesting things, the Christmas things…it just moves me. I want to live there. I see things like this beautiful yumminess below. It moved me. There was a show that my sons watched in the 80s that sang this song all the time. All the time. I cannot remember if it was a show called Zoobilee Zoo or if it was another show that I am thinking of and cannot recall the name that was also on during this time. But this takes me back.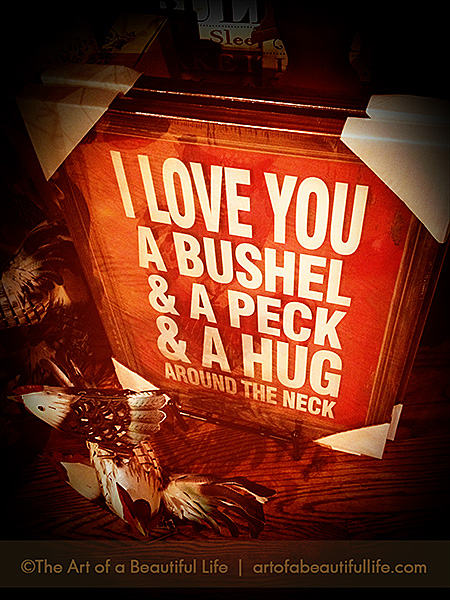 Oh, what beautiful memories this brings back. Today, on my birthday, I see this.
But I am not so sure if it was just a beautiful memory or perhaps a love note from someone.
We had a wonderful dinner, and I suggested we stop by Target for a few minutes. I hadn't really been out of the house in about a month. It felt good to get out. Well, at least in my mind. My body wasn't loving it. But if I waited on my body to feel like it, I would not have done anything the past year, including that wonderful vacation I had with my sons. But I am kind of glad at this point that we did dinner and Target instead of the fair. I just really missed not spending the day with my youngest son, too. For him I would have powered through the pain at the fair, and we would have made a memory. I may have been saved from myself.
So after dinner, my oldest son and I head to Target. We are not there two minutes when someone yells happy birthday to me. I turn and look, and it is my youngest son! God knew how much I missed my youngest son tonight. He saw the tears I had blinked away. And He passed this way. He is so good to us. They were stopping by Target on the way home. I never run into my son when I am out. Never. And to run into him tonight had God's signature all over it. The funny thing was we all had thought about Walmart but decided on Target. This meant so much to me. Never think the He does not know the desires of our heart and how much He wants to bless us. He takes my breathe away. So what was a little bit of a sad birthday turned into such a truly blessed birthday. Not only did I get to see both of my sons, but I also got to witness God make it happen against all odds. He passed this way. Oh, how He loves me. Maybe He loves me a bushel and a peck and a hug around the neck.
I delight myself in Him and in His love for me. I look for His handiwork. It is in the mountains and in the oceans. It is in the birth of a child. It is in the love notes He leaves for me every where I go. I fall in love with Him a little more every day. He takes my breath away.
My heart is so happy….and full. My heart is full. Today we celebrated.
***Disclaimers*** I am not a health expert. Please consult your own physician for health or exercise advice. I just share what I am doing or things I have found interesting. This is in no way considered to be advice for what you should do. Affiliate links are included on this blog and in this post.