Today is my birthday. Last year was a big one turning 50. I made a lot of plans for this past year. The year had other plans. Last year seems like a life time ago. I  walked through some pretty scary doors this year. But I am still standing strong. There are more doors ahead. But I know that God is already there. He is already there. So today, I celebrate. I celebrate a God who is amazing and who has had His hand on my life from the beginning. I celebrate life. I celebrate today. I celebrate my people, and I celebrate every good thing yet to come.
No matter what comes your way, know that you are going to make it. You are going to be OK. You are going to be better than OK. You are going to rise and walk through it all, only to be braver, bolder, more you, and more full of faith than ever. There is light on the other side of darkness. If you're not seeing light yet, keep walking. Do not let your circumstances define you. Decide who you want to be and be that, no matter what is happening around you…or what has happened in your past.
Look around and focus on what is good. Fill your life up with the good stuff…your people, hope, joy, celebrating, making memories, making a dent in the Universe, living the story you want to tell, and God…always more God, and the life changing kind of stuff that not only changes you but those around you.
So maybe I did not stick to the plan, but I think it turned out pretty good. Sometimes we need to be flexible. Life is fluid. So much is out of our control. It just is what it is. The one thing we can control is who we decide to be on the journey.
A few of my favorite things from this year…
Always my sons. They are my people.
The wonderful vacation my sons and I took in September. We made a memory.
My new blog here…. The Art of a Beautiful Life. It is my special place. It is where I keep everything that inspires me.
My new line of inspirational jewelry. This was put on my heart four years ago when I had a sticky note with two phrases that got me through the day. Now, I get to wear what inspires me on my arm every day.
The Change Your Thoughts, Change Your Life Challenge – What started out as a 30 day challenge has now become a way of life.
The new blogging friends I am making. It is kind of wonderful connecting to other highly sensitive, observers who write their soul. They move me. I want more of that in my life this year.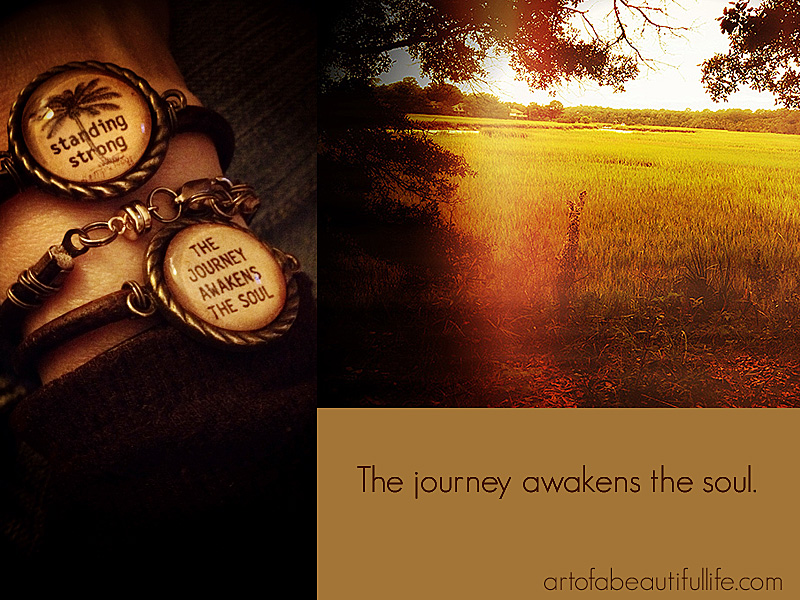 So, today I celebrate.
Writing on the wall of life,
~Topaz
***Disclaimers*** I am not a health expert. Please consult your own physician for health or exercise advice. I just share what I am doing or things I have found interesting. This is in no way considered to be advice for what you should do. Affiliate links are included on this blog and in this post.