So this is what I have been up to lately…
I am so happy to say…I am designing jewelry again. A couple of years ago, I began designing inspirational jewelry, because I had something special in mind that I wanted. It grew from there. I LOVED designing. I would go into my little "studio" space and could just feel this beautiful and creative peace. I loved it. My friends and facebook fans loved the pieces. I could have never predicted that in a couple of short months that I would barely be able to use my hands. It was a year long struggle to feel somewhat normal again. Even then, the original materials I had used would still be too difficult, so I just put it on the back burner. Then recently, I found myself wanting a special piece for myself again. As I thought through what I wanted, I realized that I could use these other materials and findings with my hands, especially with the right tools. The design process was on. Oh. Happy. Day.
Inspirational jewelry is near and dear to my heart. For years, I would just crave to have something in particular in front of me that would inspire me for a given season. Life had gotten hard. I had to stay more focused and inspired than ever. And so the journey began. I am thrilled at the new designs today. I wear them every day and cannot stop looking at them. Oh, the places we can go and things we can do. Let's all be inspired.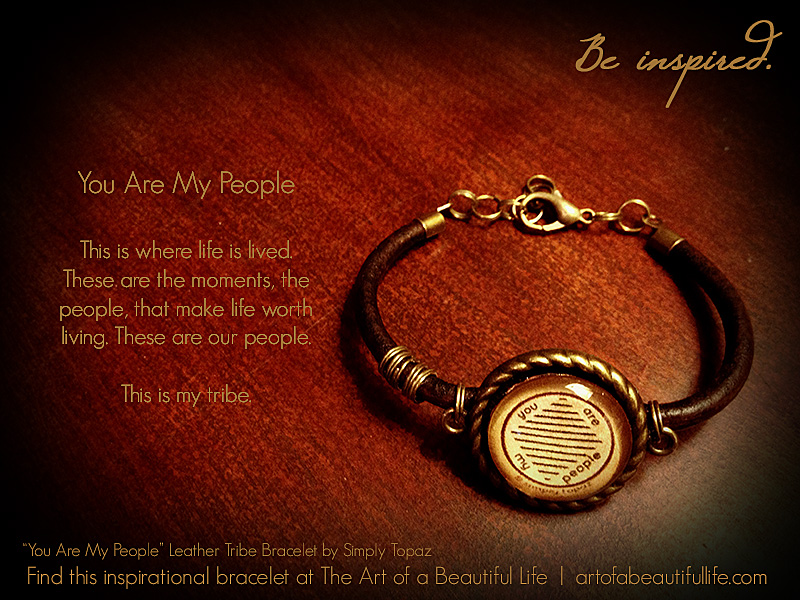 The new designs are gorgeous and can be worn alone, or you can layer them with other bracelets. As always, I also do custom work if you want to create your own for a personalized bracelet. These can also be custom sized to fit any size wrist if you do not see something that will work for you. This was a huge thing for me as I wanted something for everyone with the new design.
These are perfect to inspire yourself, family, or friends for a special day, or for no special occasion at all. We never need a special season to be inspired.
So if you haven't checked out our new shop, please come stop by and take a look!
Be inspired!
And for "my people"…my amazing tribe of friends, I am offering a 20% discount for the next 3 days! Use the coupon code tribe20 until October 23, 2014.
*I am currently only able to ship within the US, because I have not figured out how to easily and affordably ship outside the US. I am trying my best to avoid the post office. So sorry to all of my friends outside of the US. I will keep looking for some ways to make this happen.

***Disclaimers*** I am not a health expert. Please consult your own physician for health or exercise advice. I just share what I am doing or things I have found interesting. This is in no way considered to be advice for what you should do. Affiliate links are included on this blog and in this post.