It's simple, quick, and delicious…and cheap. This was a HUGE hit at our house.
I came across this recipe on pinterest and thought it had potential. Well, we tried it with a few tiny changes, and it was AMAZING.
This was easy, quick, and cheap. And AMAZING.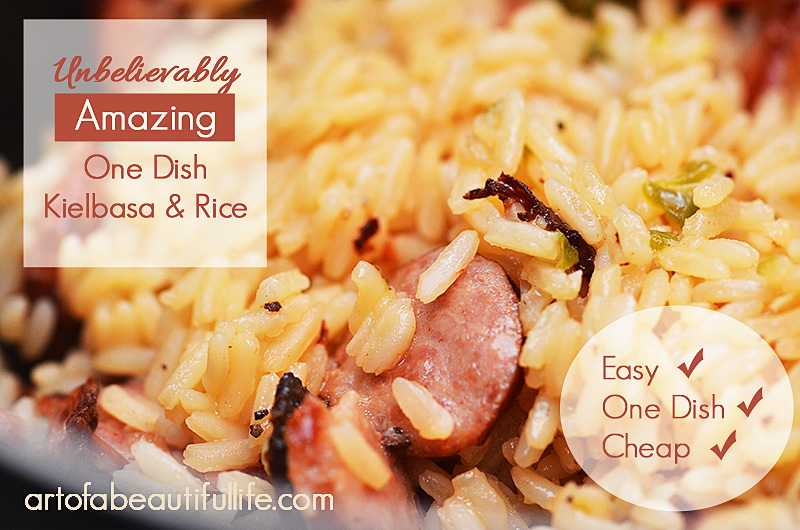 Unbelievably AMAZING One-Dish Kielbasa and Rice Recipe
Ingredients:
1 onion, chopped
1/2 green pepper, chopped – Feel free to use the whole green pepper. I just wanted to be careful that it didn't over power the dish, plus one of the people eating it likes it…as long as it's not too much.
garlic cloves, chopped – about 1-2 tablespoons
1 pound kielbasa or other sausage – It really is limitless what you can use with this.
2 cups parboiled rice – Or your favorite rice. We got parboiled rice by accident this week and loved it.
1 3/4 – 2 cups water  or chicken stock- 2 cups was too much. Next time I will experiment with this and try a little less.
salt and pepper
Preparation:
Rinse and soak rice. I do this because I read it helps to remove the arsenic that is on rice.
Chop onion, garlic, and green pepper. I chopped the green pepper up really fine, just so the larger bites weren't so strong for those who did not love it.
Slice kielbasa. I sliced it really thin to stretch the meat and still keep the flavor through out the dish.
Heat your pot/pan and add just a tiny bit of oil or cooking spray.
Cook Sausage. Remove from pan and drain. Leave about a tablespoon of the oil from the sausage in your pot.
Saute your onions for few minutes, really coating them in the oil in the pan and scraping the good stuff off the bottom. Add your green pepper and garlic and cook for about another minute.
Add a bit of butter. Well, just because I cannot think of a good enough reason not to add butter.
Add salt and pepper.
Add the rice, water/stock to the pot and add your kielbasa back to the pot. Bring to a boil. Reduce to simmer for 20-25 minutes.
Notes….
If you want more vegetables, you could throw them in the pot, or roast them in the oven while you are cooking this.
I buy the garlic peeled. It's just easier on my hands. I know I have seen that nifty little trick everyone is using to peel garlic in the bowl covered with the other bowl. It doesn't work for me, so I buy the peeled garlic. It's always way more than I use in a week, so I tried something different this time and chopped it, and I froze what I didn't use in one tablespoon portions on wax paper and stuck it in a freezer bag. I did the same with the other half of the green pepper. I have never tried this before, but if this isn't weird when I go to use it, I think it is a great way to make sure nothing goes bad or gets wasted, plus it will make the next meals that you cook with it super easy.
I think one of the reasons this was so amazing was the rice. I mentioned in the ingredients that we got parboiled rice by accident. It is actually the rice used in Uncle Ben's wild rice. I did not know that. Or maybe I read it once upon a time, but I didn't know what it was, so I forgot about it. The rice was not gummy or sticky at all. It was perfect. It absorbed the flavors without soaking them up, if that makes any sense. It was still moist and not dry but full of flavor.
This was full of flavor, but if you like, add creole or Cajun seasoning for an added punch.
We used regular kielbasa, but if you like it hot, the hot kielbasa would be great.
This was fantastic, very flavorful. It was a hit with all of us. I cannot wait to experiment with it and see what else we use with this. What would you try with this instead of the kielbasa, or perhaps in addition to it?
***Disclaimers*** I am not a health expert. Please consult your own physician for health or exercise advice. I just share what I am doing or things I have found interesting. This is in no way considered to be advice for what you should do. Affiliate links are included on this blog and in this post.