I officially shared this with all my facebook friends last month, so now I want to share this with you.
I have not talked about this much other than a brief mention here and there. When something awful consumes your life, you have to have places that are sacred from it. This blog has been that for me and will continue to be that. When life is hard, sometimes we just want need to escape from it. For some of us, that is survival. We still get to make life as normal as possible.
But it is time to share part of my story. In some ways, it is why this blog was created. It was a place that could just be beautiful, not like the reality that I faced every day. It could be a sacred space, something that I could not do with my life…make it absent of all the bad things. At least the bad thing I needed to have time and space to be able to process it.
There's much more to the story, but here is the just of it all. It is what I recently shared with my facebook friends when I realized so many did not know what was going on.
One of the main reasons I am sharing this here with you is to help anyone who reads this to realize that beautiful lives don't just happen. We create them. Even in the midst of some really hard and messy things. Even in the midst of the mess, we can do some beautiful things. Yes, the bad is still a reality. But it is not my whole life, nor do I ever plan on it defining my whole life. And neither should you.
My life is far from perfect. Most people would not want to trade places with me. I do not think and live the way I do because my life is easy or perfect, or always beautiful. We make it beautiful by how we live it. We create the beauty. My life definitely should have come with a warning label. Beauty not included. You must create your own.
So this is what we are dealing with and where we are with it.
David has Huntington's Disease. It's a fatal neurodegenerative disease that causes the progressive deterioration of nerve cells in the brain. It's like a cross between Parkinson's, Alzheimer's, and a little (okay a lot) schizophrenia thrown in just to keep it fun.
We have been living this reality for a very long time. I haven't talked much about it just to try and live as normal of a life as possible, but he's been progressing more quickly lately, and it consumes a lot more of daily life now. I've been doing this for years. Soon he will require more care than I can give him at home, which is a seriously hard step to take, but I know we are on the doorstep of it. This disease is like that. It can take some fairly big leaps very suddenly.
I don't know where this will all be in a year or five years. A lot has changed in the past year for him. So while we don't know what today or tomorrow will bring, I do know that God is already there. This might be a strange concept to some…how God is there when this horrible thing is happening. We have seen Him show up in many ways on this journey. And while it is our human nature to worry about tomorrow, it is a waste of our imagination. He doesn't give me what I need for the next step today. He will give that to me when I get there.
No matter what your story is, how hard things might be, always remember…
Beautiful lives don't just happen. We create them. Even in the midst of some pretty hard and messy stuff.
So tonight, we are going to focus on family, good food, and enjoy our people.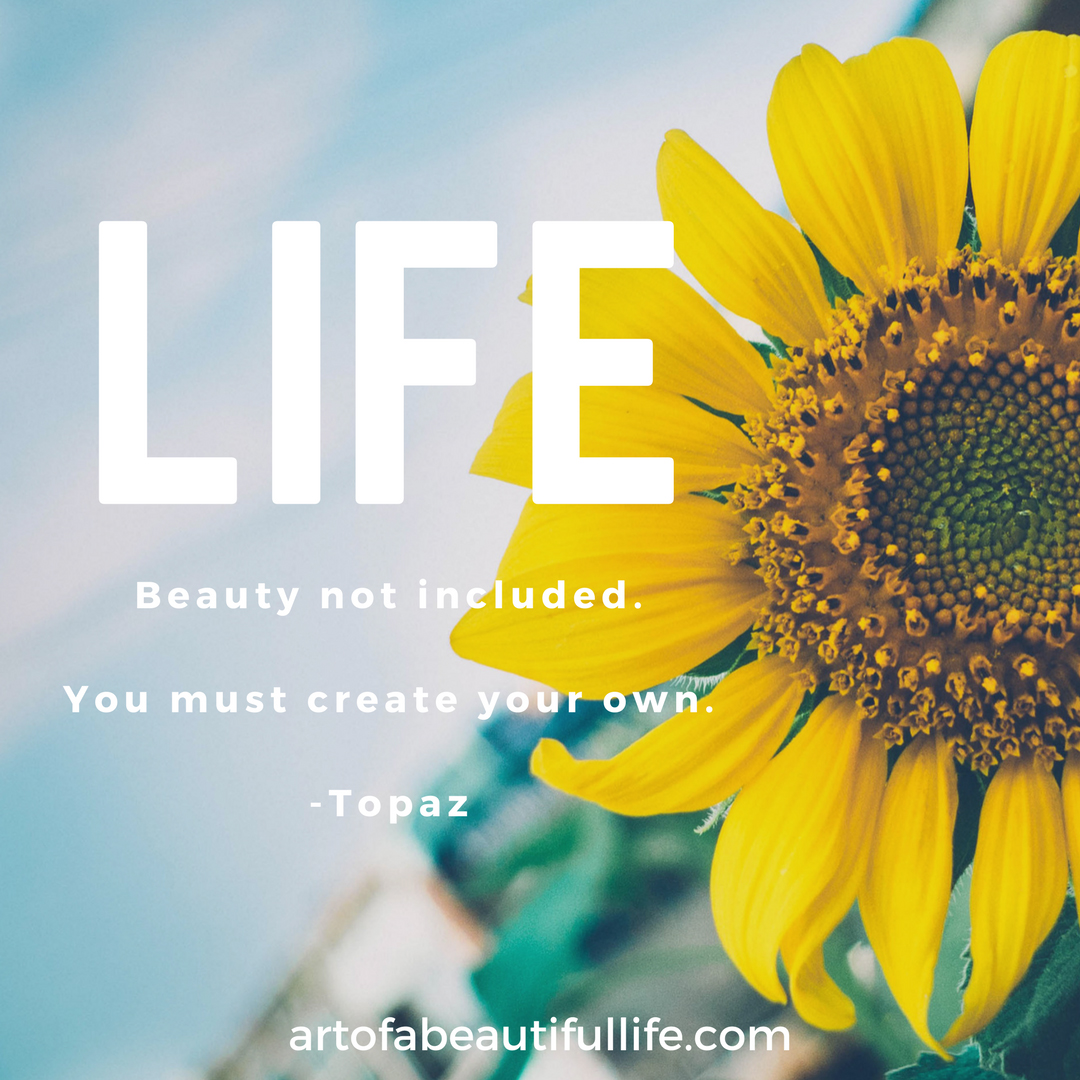 Life. Beauty not included. You must create your own. -Topaz
Shine on, beautiful people. I intend to.
Love,
Topaz
***Disclaimers*** I am not a health expert. Please consult your own physician for health or exercise advice. I just share what I am doing or things I have found interesting. This is in no way considered to be advice for what you should do. Affiliate links are included on this blog and in this post.