Schedule social media posts in only an hour a week…and without losing your mind. It frees up valuable time to actually connect with others or to write.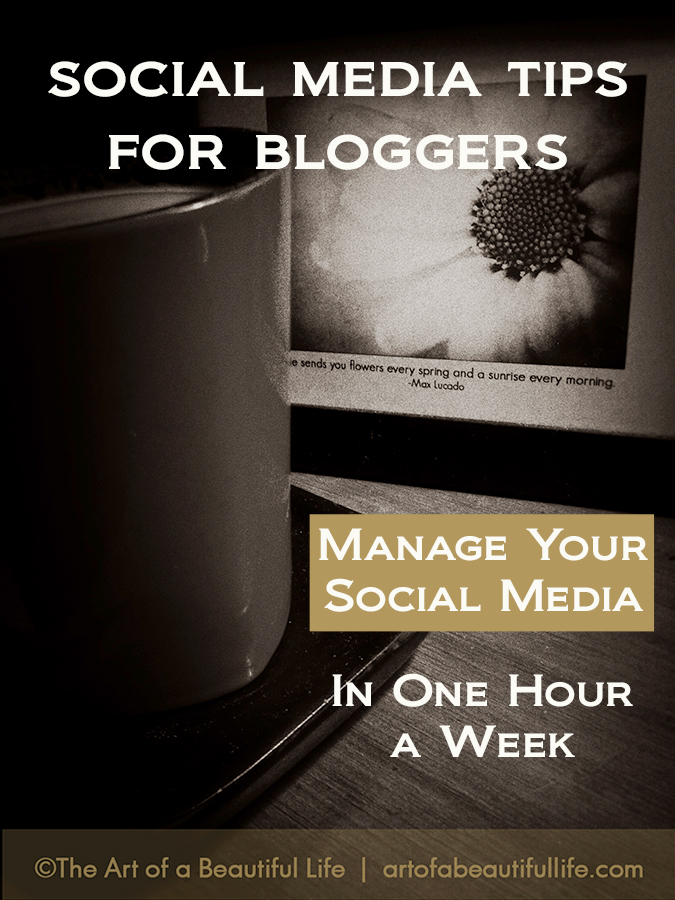 Have you ever felt like you are losing your sanity keeping up with everything? Or have you ever found yourself so busy that it felt impossible to keep up with posting on social media that week, other than perhaps your blog feeding your posts into them?
I am not new to setting up a blog, but I am spending a lot of time learning how to build and grow a blog successfully. While we would like to think if we show up and write, they will come, that is not the case. There are many things we need to be doing in addition to showing up and writing our hearts out. It can be overwhelming.
I started using a system last week that has saved my sanity and wanted to share it with you. Social media was either taking too much of my time, or I wasn't making time for it at all. I was having trouble finding a balance.
I read that it helps to choose your favorite social media site and spend most of your time there. I chose twitter as my primary focus, and Google+ is a close second, but I still found myself falling behind in posting, or I was posting and falling behind in everything else.
I had seen people using hootsuite for YEARS. I may have glanced at it years ago. At the time, I think I opted to use tweetdeck. Looking for anything that would help me, I checked out hootsuite again and am so glad I did. I discovered that with one message, I can schedule a post for twitter, Google+, and my facebook page. And with the autoscheduler, I do not even have to set dates and times, which makes scheduling posts super easy and super fast.. It will choose the date and time for me automatically within the parameters I choose in settings.
It takes me about an hour to schedule a week's worth of social media for twitter, Google+, and my facebook page. This means when I am checking my social media, I can spend time connecting with people, which is what I really love to do, and not have to spend that time getting all of my posting done. This schedule frees you up to have more time for the good stuff, connecting and making friends.
Hootsuite has been my favorite so far. I am sure there are other programs to help schedule social media posts. This is probably not new to many of you, but it has saved the sanity of this ADD soul, and I wanted to share it with others. If you have found another program that you like, please share.
How to Schedule Social Media Posts for Blog
Make a word document with a list of your favorite quotes, blog posts, questions, links, etc.
Choose a day each week (or month if you really want to work ahead) and schedule your posts in hootsuite. It's something easy to do that you can even do while you are watching television. I do not like to feel like I am overwhelming people, so I schedule about six a day. I may experiment and see if another number works better, but I like six right now. It gives room for me to pop in if I want.
Create and use lists for a little extra connecting off and on during the week, always adding new and interesting people who like to connect. I tend to do a little here and a little there.
It took a little time to initially setup my list, but it is easy to maintain. I just add new posts and quotes I like to it as these things come up.  Highlight or bold where you left off on your list so that you know where to pick up next time with your scheduling.
What system do you use to schedule social media posts?
And here is a little something for my subscribers…cause I LOVE them….
FREE Social Media Campaign Worksheet for Bloggers (for Word or Google Docs) – All setup and ready to start adding your own posts. 
Social Media Campaign Document for Bloggers

7.03 KB
Enter Correct Password to Download

*The current "subscriber only" password will be emailed to you after confirming your email address.
***Disclaimers*** I am not a health expert. Please consult your own physician for health or exercise advice. I just share what I am doing or things I have found interesting. This is in no way considered to be advice for what you should do. Affiliate links are included on this blog and in this post.