Oven fried shrimp is so easy….and delicious. There are a couple of tricks to it, though. So be sure to read to the end.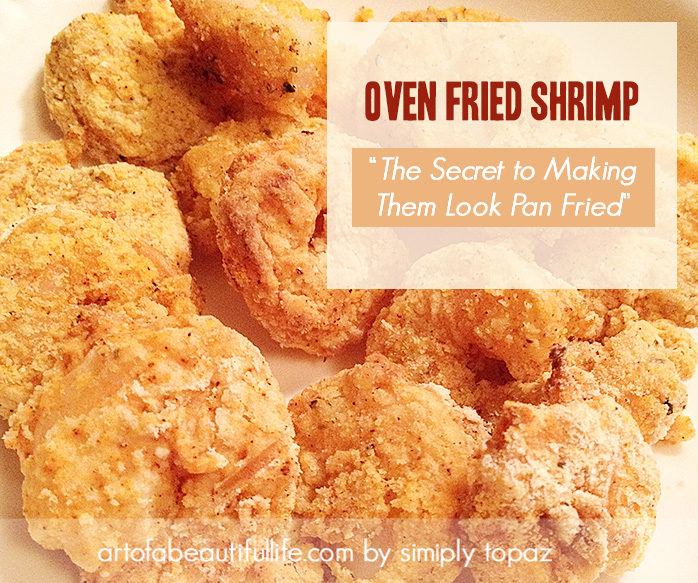 I had been wanting to try oven "fried" food for a long time. I'm from the South, and we love fried food. But, oh my goodness, can it stink up a house. Yuck. Not a fan of that.
I got brave last night and tried oven frying with shrimp, probably one of the easiest things I could have chosen.
Here's what I did….
Oven Fried Shrimp
Preheat oven to 450 degrees.
Dip shrimp in coconut milk. Any milk will do, but I'm lactose intolerant, so this is the only milk we have in the house. It worked fine.
Cover shrimp in mixture of bisquick, cornmeal, and spices. I used paprika, Old Bay seafood seasoning, and pepper. Flour or your gluten-free flours would all probably work fine.
Place a cooling rack on a baking pan and spray.
Place shrimp on cooling rack and spray them with cooking spray.
Bake for about 15 minutes.
Notes…
I read the paprika helps with the "browning" color.
And you definitely want to use the cooling rack for cooking them. I remembered this trick when I was researching how to "fry" pork chops in the oven. It definitely made a difference. I placed a couple straight on the aluminum foil-covered pan just to see. BIG difference.
I usually fry mine with just cornmeal, but I think you need a little something more with these when you bake them. But they were still good no matter how you did them. I actually tried it three ways…bisquick only, corn meal only, bisquick and cornmeal. All three were good and were close in taste.
***Disclaimers*** I am not a health expert. Please consult your own physician for health or exercise advice. I just share what I am doing or things I have found interesting. This is in no way considered to be advice for what you should do. Affiliate links are included on this blog and in this post.