The challenge for this month is the living room declutter challenge and making it pretty.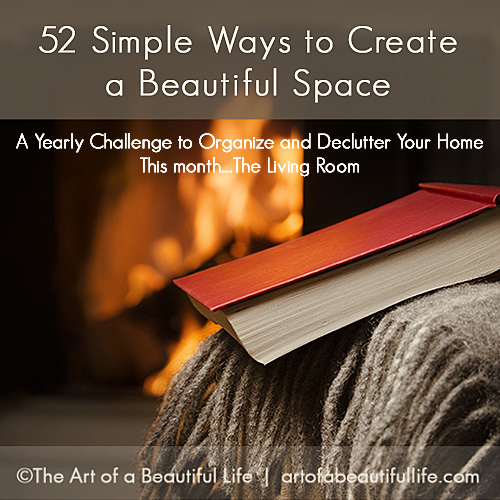 Week 1…
Remove what doesn't belong. This means any clutter, anything that should just be thrown out, or something that needs to have its own place. Pretend you are walking into the room for the first time and look, really look at it. You might be surprised what you overlook just because you are used to it. Get your camera out that we used for the bedroom challenge. Oh, that sounded bad. You know what I mean. It helps us to see the room objectively. We might be used to letting our eyes glance over it all, but when we take a picture of a room, we notice everything. Everything.
Week 2…
Warm up your lighting. Use more lamps and less overhead lighting. Use warmer shades or warmer bulbs. They make a pink bulb that is great in certain situations. Use more bounced lighting, where the light is reflecting up into the ceiling more than downward.
Week 3…
Cozy it up. Add pillows, throws, even a cozy electric stove if you like. Maybe even a new set of curtains or dye the ones you have. Add an area rug to pull it all together.
Week 4…
Buy or make art for your walls. Go big. It gives it the WOW factor. Even if your home is small, it's better to have one big, beautiful piece of art than 50 little ones. I'm still looking for mine. I've come close to it a couple of times and may need to settle while I wait for the perfect piece. I do have a few large family prints, but I want that perfect art piece. One day I hope to maybe even get a large print from a beautiful place we went for the day or from a vacation, somewhere that we made a beautiful memory.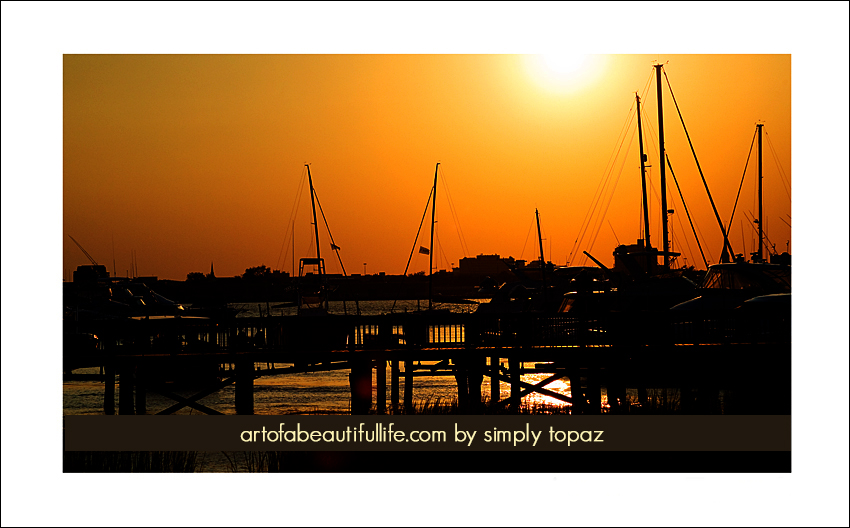 One day my youngest son and I went to the beach to take pictures, so we both took the big cameras. After the beach he took me over the "big bridge" for the first time, and then we went to the marina as the sun was setting. We saw dolphins playing and took pictures of the setting son. It was a perfect day. I have a 20×10 of the setting sun at the marina on a shelf in the bedroom. Every time I see that picture, I remember that perfect day. I ADORE that picture for that very reason. It's not just a picture. It is a memory, a really beautiful memory.
Do not be afraid to change your thinking on what big is. I remember when the boys were little, and we used to do the Sears portrait thing every year, I always wondered what in the world I was going to do with that HUGE 11×14 they included in the package. That's barely a print at all for me now. Don't be afraid to go big.
In conclusion…
Enjoy your new and beautiful living space. Break out the wine, cheese, and crackers, and have some great conversation or play games with your people in your new space. Enjoy!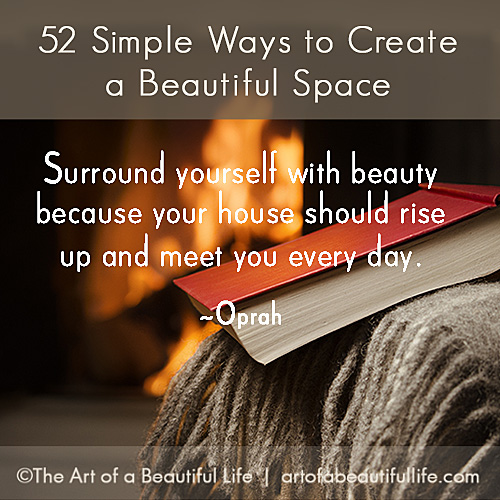 Download the free, printable bathroom declutter challenge!
52 Ways to Create a Beautiful Space - Living Room Challenge

48.02 KB
Enter Correct Password to Download
♥ Join the Tribe! ♥
Beautiful lives don't just happen. We create them. ~Topaz
Subscribe TODAY and start receiving access to special subscriber only downloads and join us in creating a beautiful life!

(*The current password for "subscriber only" downloads will be emailed to you after confirming your email address.)
***Disclaimers*** I am not a health expert. Please consult your own physician for health or exercise advice. I just share what I am doing or things I have found interesting. This is in no way considered to be advice for what you should do. Affiliate links are included on this blog and in this post.