One of the things on my list for this year is to laugh more. This has got me off to a great start.
It began to rain during the inauguration ceremony for President Trump. Not just any rain, but cold rain. Ponchos were provided, but apparently instructions were not.
 Video Credit:
CBS News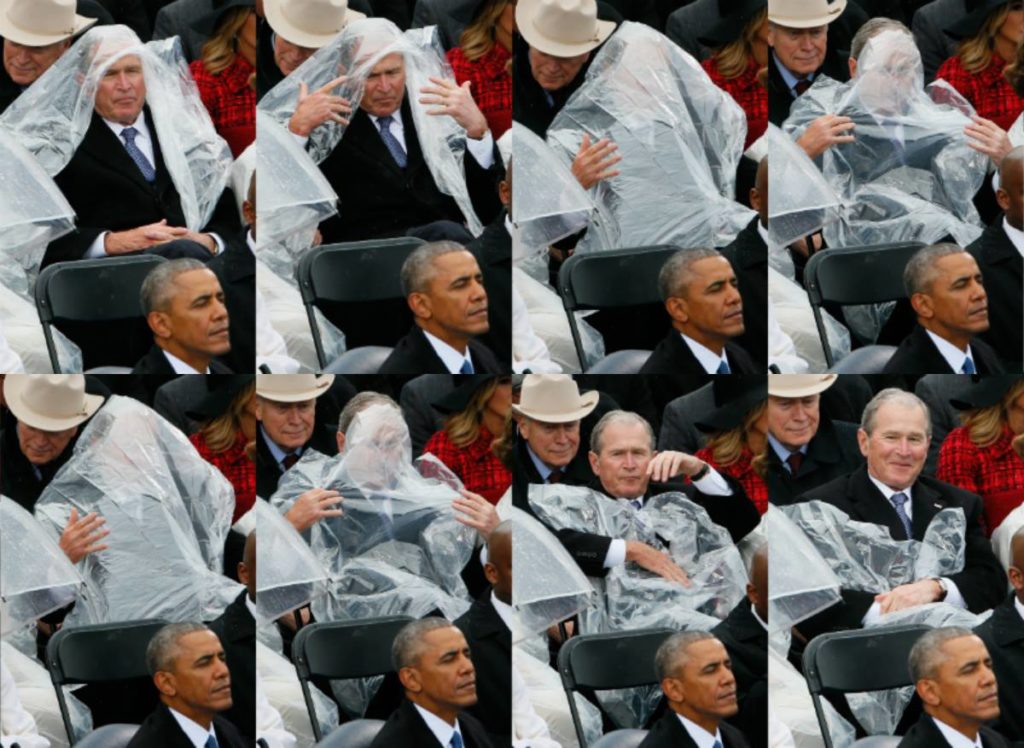 I am so glad someone caught this.
When I got finished laughing and saw how this was now trending and everyone else's reaction, it made me step back and see why this is the "feel good" event of the year.
It is not only acceptable but encouraged that we laugh at ourselves.
We all struggle.
We become even more likeable when we are real.
Be comfortable in your own skin and with who you are. It takes a lot of confidence to be this real and look this silly.
Do not take life too seriously.
Someone is always watching even when you think they are not.
Laughter makes everything better.
We all like George W. Bush a little more now. And from what I remember about him when he was running for president, he actually has a great sense of humor. And judging by the last shot in the series, he was already laughing about it. I bet he has gotten a great chuckle over this and is happy it's made the world a little better place to live.
Let's all be a little more like George W. Bush this year. Embrace imperfection. Lighten up. Sometimes we have to see just how hilarious life is. Laughter is good medicine. Embrace the silliness and humor in a situation It is something we all have in common and makes us all much more relatable.
Life is more about how we deal with what happens than what actually happens. The "how" is the story. It is always the real story.
***Disclaimers*** I am not a health expert. Please consult your own physician for health or exercise advice. I just share what I am doing or things I have found interesting. This is in no way considered to be advice for what you should do. Affiliate links are included on this blog and in this post.