For years I thought I wanted a Vitamix blender. For years. It was a huge decision for us to finally take the plunge.  The truth is years ago when I thought I wanted one, I was probably not ready for one yet. But I should have bought it anyway and MADE myself use it.  So if you are reading this and do not have one, that is what you should do. Your future self and your future family's health will thank you for it. Plus the price has come down considerably over the years.
The reasons why I love my Vitamix:
It is EASY to clean. EASY.
It is QUICK.
I get the nutrition and fiber from the peel.
It is hardcore. My regular blender would jump off the counter and slap me in the face if I tried to do to it what I do to my Vitamix.
It is EASY to clean. I just thought this bore repeating.
You are going to want a special place for it on your counter. For one, it is heavy. And two, you will use it. All. The. Time.
It is amazing what you can throw into it and how good it tastes.
See the Vitamix blender I purchased on Amazon.
The Perfect Starter Juice Recipes for Beginners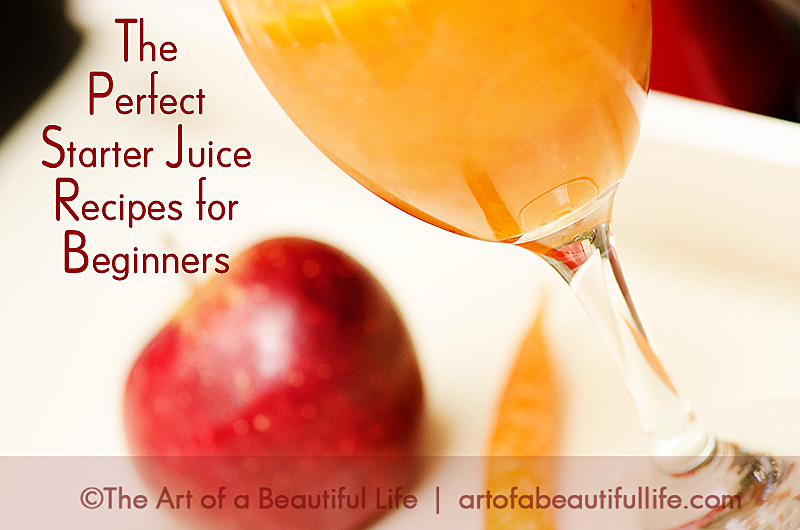 But my first attempts were NOT very good. Well, I take that back. I would probably love those first attempts NOW. But working up to more veggies than fruits takes a little time, at least it did for my family, and I am the person who LOVE veggies. I found the more I juiced, the more veggies I could add and still loved it.
Apples and Carrots
3 apples
1 carrot or about 6 baby carrots
ice
water
This is the first juice I loved. If the carrots still feel a little strong after you have made it, add a natural sweetener.  I know that is a high fruit to veggie ratio, but this is going to completely change after you get used to it.
Apples, Carrots, and Banana
2 apples
1/2 lb carrots
1 banana
ice
water
Apples, Carrots, and Grapes
2 apples
1/2 lb carrots
1-2 cups grapes
ice
water
Pineapple Juice
Pineapple is great and easy, too. Pineapple can be bought ready to chop or even frozen if you want to keep pineapple on hand for when you don't have fresh. I love a straight pineapple juice…with the core.  It has worked miracles for me on some very painful days.
If you are new to this, it's easier to go heavier with the fruit and gradually decrease it so that you have more vegetables. It is easier to adapt without having to add any sweeteners. It is not so much of an exact science kind of thing as it is a personal preference. The most important thing to remember is that if you do not like the veggies juices, do not lose heart. Work more of them in gradually. You will get used to them and come to love them. Just give it time.
Fruit and Veggie Preparation:
I spray with a 50/50 vinegar and water mixture and scrub them a little and then soak them in water with a little vinegar.
How much ice and water to use?
The general rule I use is to make sure everything is covered.  If I have room, I will add some more. With ice, I add about 7 ice cubes. Both of these are a personal preference, but this might be a good starting place if you are not sure at first what you will like.
One more thought…
If you or perhaps you have a child who is struggling with liking these, adding a banana can really dominate some of the tastes that someone may not like. Of course, this only works if you like bananas.
Adding natural sweeteners, like more fruit (apples and grapes) is a great way to stay away from artificial sweeteners.
We add a lot more veggies now, and we love it. It just took us some time to acquire the taste for more veggies and learn the right combination.
Happy juicing!
***Disclaimers*** I am not a health expert. Please consult your own physician for health or exercise advice. I just share what I am doing or things I have found interesting. This is in no way considered to be advice for what you should do. Affiliate links are included on this blog and in this post.