Immerse yourself in a life that moves you, because what you
surround yourself with is what becomes your life. -Topaz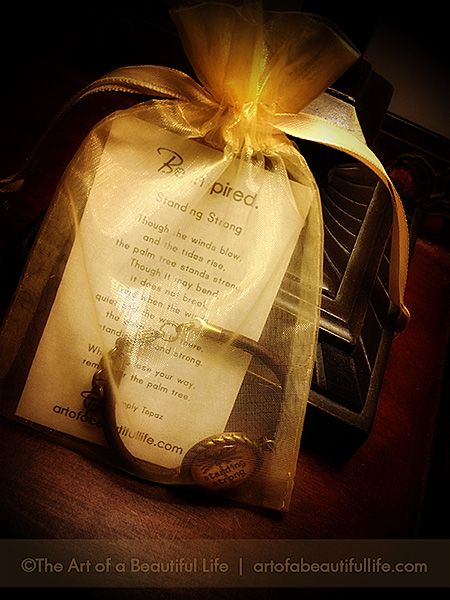 That with which we surround ourselves has a profound effect on the life we create. Even the jewelry we wear can inspire us, make us feel braver, stronger. We have this one amazing life to make beautiful. Take every opportunity to add to that beauty and to be inspired.
Surround yourself with what empowers you, encourages you, makes you stronger, braver. Keep it in front of you. Let it change you. Let it make you the person you were created to be.
That is the heart of this line of inspirational jewelry…becoming the person we want to be, the person we were created to be. She's in there. She's been there all along.
These beautiful, inspirational bracelets can be layered or worn individually. They are the perfect gift idea for Christmas, Mother's Day, birthdays, graduation, or just to give to that special person because you felt moved to touch their life.
We also have more beautiful and inspirational jewelry in our Simply Topaz Etsy Shop.
About Simply Topaz Jewelry and FAQ – (Sizing Information, Custom Requests, Etc.)
| Be beautiful. Learn more about the Art of a Beautiful Life Movement |
A few featured jewelry designs that you will love…