Go Live That Dash Inspirational Jewelry | Inspirational Quote Jewelry | Sterling Silver
$20.00
Description
Go Live That Dash Inspirational Jewelry | Inspirational Quote Jewelry | Sterling Silver
This inspirational bracelet is made with faux suede leather for a comfortable feel. It is adjustable by a simple sliding bead, making it easy to put on and take off. It is embellished with wood and silver beads to represent the dash we live, the time between when we are born and when we die, the part of our story we are writing right now.
Go live that dash.
Your dash is happening right now. This moment…this is it. This is your dash.
Included card reads…
"Let this symbolic dash remind you to live your life, the dash, the time in between when you were born and when you die. This moment is your dash. Go live that dash. Really live it." -Topaz
This moment right now is your dash. It's not when the planets align and everything is perfect. It is this moment right now. Do not waste one more moment waiting. Live it now. Do the things you want to do. Be the person you want to be. Today.
Inspirational jewelry for the soul.
Our jewelry should not just be something we wear to match our clothes. It should move us. It should mold us. It should make us feel braver, fiercer, and more beautiful. Let your bracelet be a reminder of the words behind it, encouraging you on this beautiful journey of life.
Material: faux suede
Beads: sterling silver, wood
Closure: sterling silver
One size fits most. This adjustable bracelet will fit most with a wrist up to 8 inches. If you feel you need a larger one, please leave a note when you order. If it is too big, the bead can simply be moved up and the knot tied a little higher. This makes it perfect for a gift. There is no need to worry about getting the right size.
***Please note: The second picture is just an example of what the closure may look like. The sliding closure bead and the beads near the knots will vary. We use what we have that we feel looks the best and will fit that particular cut of suede.
If there is something special that catches your eye that you would like, please message us first, and we will let you know if we have it and if it will work for your particular design. We are always happy to accommodate special requests if we can.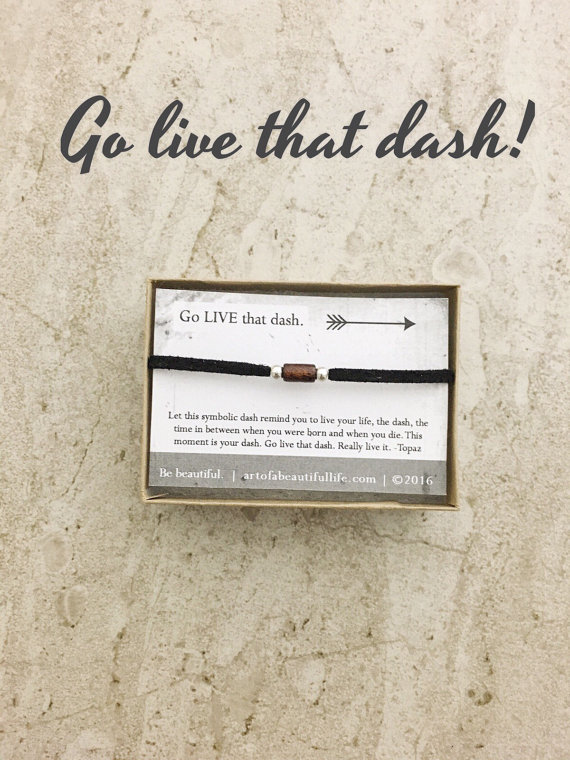 ***Disclaimers*** I am not a health expert. Please consult your own physician for health or exercise advice. I just share what I am doing or things I have found interesting. This is in no way considered to be advice for what you should do. Affiliate links are included on this blog and in this post.