Inspirational Boho Bracelet | Adjustable, Magnetic Clasp, 3 Bracelets in 1 Set
$52.50
Inspirational Boho Bracelet with Adjustable, Magnetic Clasp, 3 Focal Pieces, and 3 Charms
Read more details below.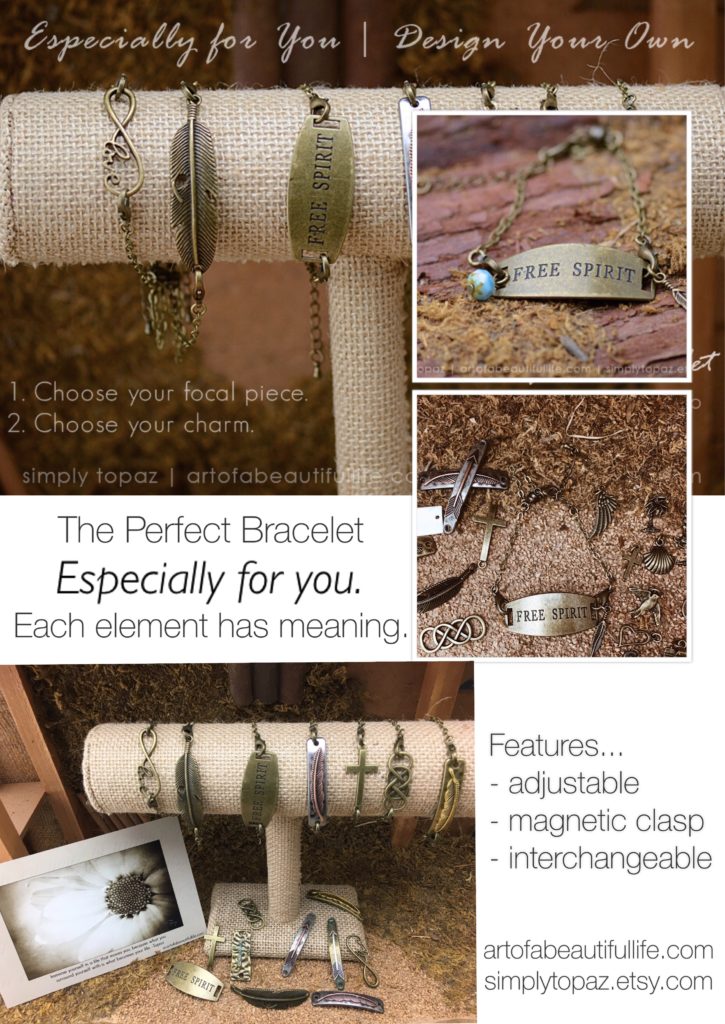 Description
Inspirational Boho Bracelet with Adjustable, Magnetic Clasp, 3 Focal Pieces, and 3 Charms from the Interchangeable Jewelry Line…Especially for You.
Includes 3 focal pieces and 3 charms to make 3 bracelets in 1! You choose your favorites!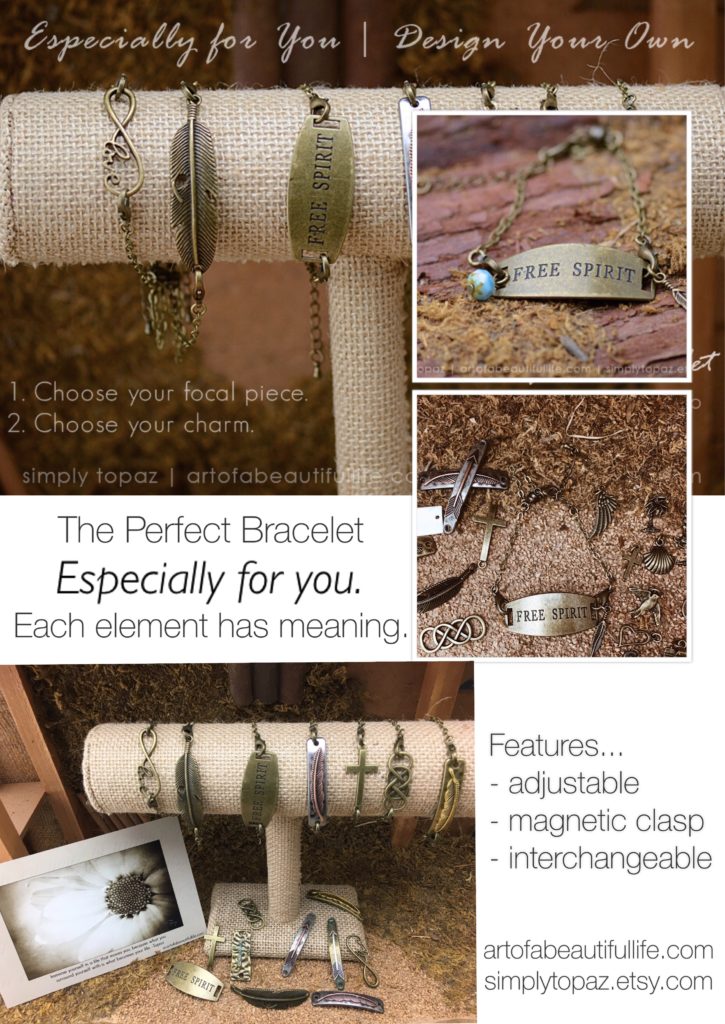 I am in LOVE with this bracelet and all of the beautiful focal pieces that can be paired with it.
This inspirational, boho bracelet begins with a beautiful, soldered, antique bronze chain. The clasp is the most amazing clasp you have ever seen. It features an adjustable chain, but it is opened and closed using an adjustable magnetic clasp. It is so easy to take on and off! It is perfect for us no fuss girls, and those of us with arthritis or carpal tunnel issues. The magnetic clasp also features a safety chain. Never buy a magnetic clasp without a safety chain. And then we get to the fun part, the connectors are completely interchangeable. That's right. You can change your bracelet focal pieces and charms instead of buying a new one. You can even add charms and beads to it.
This is everything you would want in a bracelet and more.
It makes the best gift idea! You never have to worry they won't love it, because they can always add to it as they change and grow and make it whatever they want! And with the adjustable, extender chain, it is sure to fit most. They will LOVE the adjustable, easy closure. It will be sure to become a favorite gift!
~~~Description~~~
Chain: 1 Antique bronze, soldered chain
Closure: 1 Magnetic clasp (and a lobster clasp to set your length)
Extender chain: Yes.
Safety chain: Yes.
Focal piece: Choose 3 (additional ones may be purchased separately)
Charm: Choose 3 (additional ones may be purchased separately)
Bead: Not included. May be purchased separately.
Quantity: This is for 1 bracelet (chain and clasps) with 3 interchangeable focal pieces and 3 charms for you to mix and match.
The possibilities are endless.
This 3 in 1 inspirational boho bracelet comes with one bracelet chain with an adjustable, magnetic closure, 3 focal pieces, and 3 charms. You choose your favorites! Mix and match and choose whatever you want to wear that day! The focal pieces and charms are all interchangeable.
~~~About the length~~~
(Most of my measurements are given by 16ths. It makes it easier to do quick math in our heads for the different focal piece sizes. We can then do the quick final conversion in our heads for the final size.)
This will fit a wrist measuring about a 6 1/2″ to 8″ (with extender chain), with a 1 2/16″ focal piece attached. Please add or take away from the total length by adjusting for the size difference in your focal piece just to make sure it will fit.
For example, if choosing a focal piece measuring 1 12/16" (10/16" longer than the 1 2/16″), will need to add 10/16". So your bracelet will fit 7 2/16 (7 1/8) to 8 10/16 (8 5/8) (with extender chain).
On a side note, the base chain can accommodate the clasp, so technically you can shorten the length if you do that for a particular focal piece you love. So, there is a lot of wiggle room to make your adjustments with the extender chain for most wrist sizes.
Please message me if you think you need a different size. Also, if you would like to purchase an additional bracelet of a different size to have multiples to play with, please message me.
All measurements are approximate. Please allow about ¼" when taking calculations into consideration.
The Art of a Beautiful Live can also can be found here…
Inspirational Boho Bracelet with Adjustable, Magnetic Clasp, 3 Focal Pieces, and 3 Charms
***Disclaimers*** I am not a health expert. Please consult your own physician for health or exercise advice. I just share what I am doing or things I have found interesting. This is in no way considered to be advice for what you should do. Affiliate links are included on this blog and in this post.