Christian Jewelry: God's Got This Christian Necklace with Cross
$27.00
Out of stock
Description
Christian Jewelry: God's Got This Christian Necklace with Cross
This inspirational, Christian necklace features a beautiful and timeless "God's Got This" pendant to remind to trust and know He's there. He's already gone before us. He's got this. An antique bronze cross hangs from the pendant
"God's Got This" Christian Jewelry
God's got this.
Trust the one who loves you more than life. He would go after you if you were the only one. He rejoices over you with singing. He knew you before you were formed in the womb. He has never left your side, and He never will. Rest in this. God's got this.  -Topaz
Our jewelry should not just be something we wear to match our clothes. It should move us. It should mold us. It should make us feel braver, fiercer, and more beautiful. Let your bracelet be a reminder of the words behind it, encouraging you on this beautiful journey of life.
Material: 24″ antique bronze chain
Pendant: "God's Got This" glass pendant in antique bronze setting
Charm: antique bronze cross
Each item is handmade as a custom order just for you. Please let us know if you have a special request before you place your order.
If there is something special that catches your eye that you would like, please message us first, and we will let you know if we have it and if it will work for your particular design. We are always happy to accommodate special requests if we can.
1 Christian Jewelry: God's Got This Christian Necklace with Cross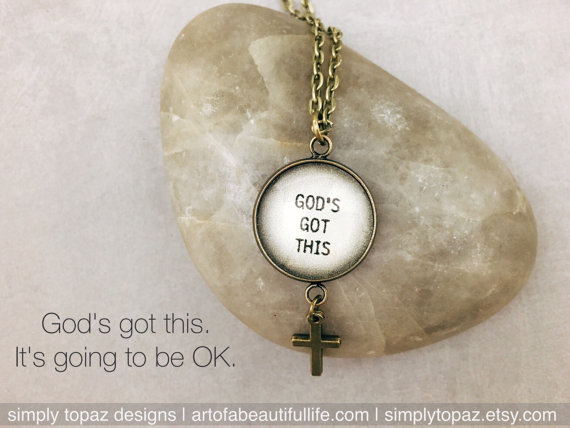 ***Disclaimers*** I am not a health expert. Please consult your own physician for health or exercise advice. I just share what I am doing or things I have found interesting. This is in no way considered to be advice for what you should do. Affiliate links are included on this blog and in this post.