Description
Boho Jewelry Gift Ideas for Her: Wanderlust Necklace
Boho Jewelry, Boho Necklace, Wanderlust Jewelry, Gifts for Her, Boho Jewelry for Her, Wanderlust Necklace
"This is for the one whose heart belongs to the world. She lives and loves without borders. She is not lost. It is when she wanders that she is at last home." -Yani
Chain: 24″ bronze link chain
Charm: feather, compass
Gemstone/Glass: Hippie Sunrise (a beautiful mix of pink, orange, and yellow) Or choose your own.
Glass Pendant: Wanderlust
Quantity: One Boho Necklace: Wanderlust (any props not included)
The Wanderlust Necklace is a beautiful design for those who live and love without borders. The world is their home.
About Simply Topaz Designs…
Let your jewelry not only make you look and feel beautiful, but let it be jewelry that inspires you and makes you feel stronger and braver. Let it be jewelry that will change your life.
Boho Jewelry, Boho Necklace, Wanderlust Jewelry, Gifts for Her, Boho Jewelry for Her, Wanderlust Necklace, Boho Jewelry Gift Ideas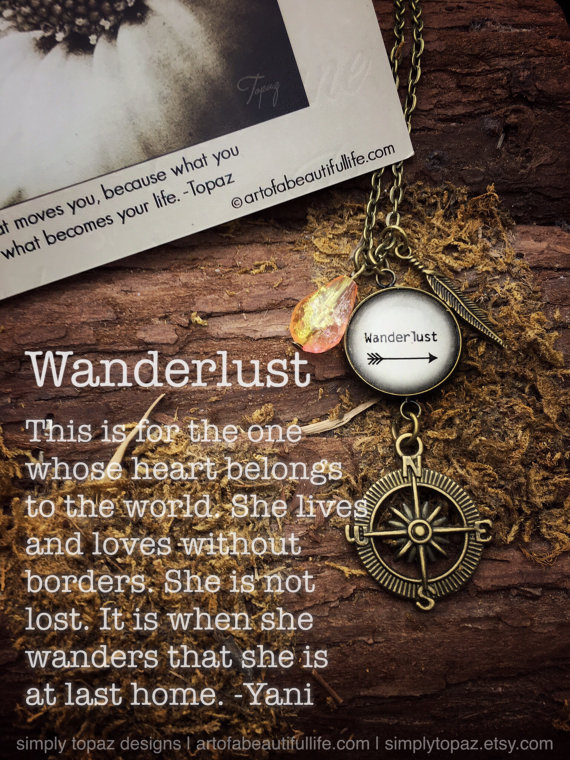 Also available in my Etsy shop: Simply Topaz.
Our jewelry should not just be something we wear to match our clothes. It should move us. It should mold us. It should make us feel braver, fiercer, and more beautiful. It should make us who we were created to be. What is calling to you? What is moving you? How do you want to feel?
Let's write on the wall of life that we were here. We came, gave, and loved with gratitude and joy and left it a better place. – Topaz
©2012 – 2016 Simply Topaz Designs – All text, photos, designs, and quotes by Topaz are copyright of Simply Topaz Designs and may not be used without prior written permission.
Disclaimer….
Jewelry may contain small parts and metal. Please use any necessary caution and also, please keep away from children.
***Disclaimers*** I am not a health expert. Please consult your own physician for health or exercise advice. I just share what I am doing or things I have found interesting. This is in no way considered to be advice for what you should do. Affiliate links are included on this blog and in this post.