Easy Gluten Free Brownie Recipe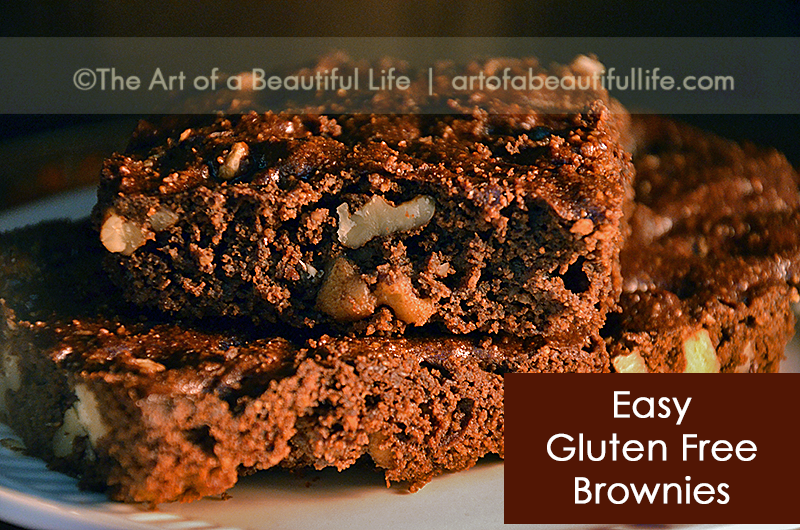 2 cups almond flour
1/4 cup cocoa powder
1/4 tsp. sea salt
1/2 tsp. baking soda
1/3 cup honey + 3 tbs. coconut sugar
2 tbs. coconut milk
2-3 tbs. coconut oil
3 eggs, whisked
walnuts
Preheat oven to 350 degrees.
Combine dry ingredients in a large mixing bowl.
Mix wet ingredients.
Stir the wet ingredients into the dry ingredients.
Pour mixture equally into a well-greased pan 9×12 baking pans.
Bake for 40 minutes. Check with a toothpick until it comes out clean.
Let cool…if you are that patient.
Notes:
These are some of the brands I used:
Bob's Red Mill Almond Meal/Flour, 16-Ounce Packages (Pack of 4)

YS Organic Bee Farms CERTIFIED ORGANIC RAW HONEY 100% CERTIFIED ORGANIC HONEY Raw, Unprocessed, Unpasteurized – Kosher 32oz

Spectrum Refined Organic Coconut Oil — 14 fl oz ( Multi-Pack)
With my oven, I cook these at 355 degrees.
I have also made these with no honey, just 1/2 cup coconut sugar. I have also made them with a small to medium zucchini.  It was great with the zucchini, but it was extra effort that I did not want to have to do to make an easy brownie. I eat plenty of vegetables other ways.
These are "cakey" because that is the way I like a brownie. I thought I remember reading somewhere that adding an egg will make something more cakey. Maybe try leaving out an egg for a less cakey brownie.
I store mine in the refrigerator and add a little bit of water and heat in the microwave for a few seconds for a brownie that is warm just like right out of the oven. These also freeze and reheat well.
I went gluten-free last year out of desperation. I have never wanted baked goods so much in my life. I came across a recipe, and with some modifications, I was very pleased with the results. After months of no gluten, you cannot even imagine my glee when I made these. Now to find an easy gluten free bread recipe. Oh, and it would be just great if it tastes like Pizza Hut crust. I'm serious. I think I could live off of a bread like that.
***Disclaimers*** I am not a health expert. Please consult your own physician for health or exercise advice. I just share what I am doing or things I have found interesting. This is in no way considered to be advice for what you should do. Affiliate links are included on this blog and in this post.